By McKinley Young Jr.
NASHVILLE- Bowl games have started and the NFL regular season will be over in two weeks. While most sports fans are beginning to set their sights on the basketball season, developmental football teams are getting ready for their spring season. One particular team, the Nashville Raiders, have been practicing hard for about two months. This past Saturday their coaches received an early Christmas gift. The Tennessee Tribune and Wallace Media Group awarded them tickets to the upcoming Franklin American Music City Bowl.
]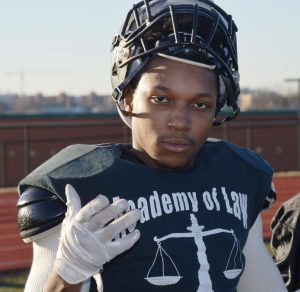 Raider defensive back Roy Logan[/caption]
"I have been around this level of football for a few years so I understand the sacrifice, said Wallace Media Group CEO Scott Wallace. "(Raiders owner)Lester (Blanton) has put together a great staff and we felt they deserved this honor. They run a tight ship over here and put in a lot of time. We hope this will make them happy during the Holidays."
DeQuinn Watford is making his debut as head coach with the team. Watford has won numerous championships as a player and led the Middle Tennessee Bulldawgs to a runner-up finish in the national competitive Gridiron Developmental Football League as offensive coordinator. The Raiders are in their second year of existence. Watford brought some players and two former Bulldawg coaches with him to the Raiders. Chauncey Smiley will serve as assistant head coach and defensive coordinator. Mike Seay will handle defensive backs.
"This is a great honor to be recognized like this," said Watford. "We have a pretty good thing going on over here. The players that were already here are talented. We added some horses and are still looking for guys. We still have a lot of work to do but believe this season will be a good one. I expect nothing less."
The Raiders will compete in the Middle Tennessee Football League which has been around for 20 seasons. Even though this will be the Raiders' first year in the MTFL, a lot of the Raiders are very familiar with the league.
"The MTFL has been around for a long time and that says a lot, said Smiley. "When I was with the Nashville Storm, we would go to games to see who would be the guys that we would want to play for us. This will be a challenge for us but these guys are preparing for it. I know I am excited. We just have to be ready."