By Wiley Henry
MEMPHIS, TN — Can anything good come out of Binghampton, a community marred by blight, crime and poverty? Xavier Delanne Winston, the 31-year-old founder of Kencade Apparel, thinks so.
With roots deeply planted in the community, he is not bothered about the perception that skeptics may have about Binghampton – except when he tried to invite a female acquaintance to his home a few years ago and she declined.
"I told her where I stayed and she said, 'I'm not coming to Binghampton,'" he recalls, adding, "Binghampton was notorious for the bad stuff. [Now] I'm trying to shed a positive light on the community."
Winston saw the light at East High School, where he began designing sneakers and clothes. He graduated in 2005 and went on to study architecture at Southwest Tennessee Community College, and then on to MCC-Penn Valley in Kansas City, Mo.
"I switched my major over to graphic design, and I actually fell in love with it," he said, but didn't graduate from either college.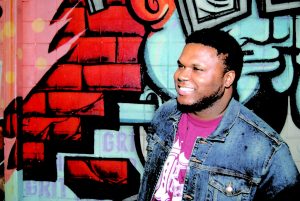 Rather than follow the wrong crowd down the path that converges at the intersection of drugs, crime or gang-life, he set out to do something starkly different: follow the path to entrepreneurial success.
"For me, I stayed on the straight and narrow," said Winston, whose dream of NBA stardom once superseded his innate talent for artistic expression. "I just wanted to go to the NBA. I didn't want anything to interfere with my dream."
Does he regret surrendering his hoop dreams to a desk and computer? "No," he said with assurance that he'd made the right decision. Succeeding as an entrepreneur – not a hoop star – has since been his primary motivation.
"If it wasn't for basketball, I don't know where I would have been today," said Winston, describing himself as a leader, not a follower. But then, he added, "It's tough growing up in a neighborhood when everybody is doing everything else."
Dreaming of NBA stardom may have kept Winston out of trouble, but it was his creative energy and desire to become self-sufficient that led him to found Kencade Apparel, a home-based business.
Another impetus that spurred Winston to seek his own fate was growing up in a single-parent household with five siblings. A brother, Milton Winston, played a part, too, at the onset of Kencade Apparel.
"I wanted to work for Rocaware, because (Shawn) Jay-Z (Carter, a co-founder) is my role model; and Reebok, because of Allen Iverson (a former NBA standout for the Philadelphia 76ers)," said Winston.
Milton Winston suggested they start a company and name it "Fly Boy," said Winston, who pondered his brother's idea of creating movies, plays, and music. "But he never puts any action behind it."
A couple years later, the Winston brothers talked about launching a clothing line. They needed a name for the company. "Coming up with a name was like the hardest part," said Winston.
He thought about the name a former co-worker suggested he use: "Delanne," his middle name. When he tried to copyright it, it was taken. So the brothers went back to brainstorming.
It then occurred to Winston that his brother's middle name would be perfect: "Kencade." "I instantly fell in love with it," he said. "Everybody knows Ralph Lauren. Everybody wears Polo, no matter what your occupation is… That's the status I'm trying to get to."
Winston started selling t-shirts in 2013 for $10 to $20 each, all sizes. Sales vary – about 300 so far since his official launch – he said, adding, "It's been up and down, but, for the most part, I do pretty good."
To supplement sales, he works part-time at Target.
Though Kencade Apparel is fairing relatively well, Winston wants to give back, perhaps to defy those who still think that nothing good can come out of Binghampton.
His cousin, the late Desmond Scott Merriweather, for example, won three state basketball championships with his friend at Lester Middle School – local NBA legend Anfernee "Penny" Hardaway.
He also coached boys' basketball one year at East High School. The residents in Binghampton can't – or won't – forget his exploits.
Merriweather grew up in Binghampton, now a community on the precipice of change. The Broad Avenue Arts District is proof that a beleaguered community can come back from the brink of decay.
Winston wants to leave a legacy, too. Just like Hardaway, whom he admires, and his cousin, he hopes to grow Kencade Apparel beyond the boundaries of Binghampton without leaving his roots.
Some of Xavier Delanne Winston's t-shirt designs can be viewed on his website at www.kencadeapparel.com.