By Chris Clark of Wallace Media Group
Lady Eagles Soar Over Mount Juliet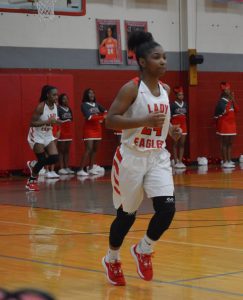 East Nashville- The East Nashville Magnet Lady Eagles (4-0) soared to victory over the Mount Juliet Lady Golden Bears in the first game of a double-header at East Nashville Magnet School. East Nashville's Jaelynn Knox scored 23 points to help lead the team to an 82-65 home win on Tuesday night.
The Lady Eagles shot 46% from the field versus Mount Juliet's defense, and they had control for most of the game as there were only two lead changes and one tie. East senior London Fairs' four three-point field goals at crucial times in the game helped the Lady Eagles run up the score and maintain a comfortable advantage.
Ava Heilman led Mount Juliet with 19 points in 32 minutes played. She shot 43% from the field and 5-13 from beyond the arc. Nevaeh Majors had a double-double with 13 points and 11 assists for Mount Juliet.
Mt. Juliet (3-2)
Nevaeh Majors 3-7 5-7 13, Ava Heilman 7-16 0-0 19, Anna Riggs 1-2 4-6 7, Adelyn Kendall 0-0 0-0 0, Dymond Howard 4-5 0-2 10, Halle Jones 7-14 2-3 16, Kayley Jones 0-0 0-0 0, Ashlyn Riggs 0-0 0-0 0. Totals 22-44 11-18 65
East Nashville (4-0)
Tameia Shaw 4-8 1-2 12, Zayla Jones 8-19 2-2 19, Jaelynn Knox 7-15 7-7 23, London Fairs 6-15 2-2 18, Kristina Smikes 0-0 0-0 0, Ayanna Kinnard 0-0 0-0 0, Kierra Waddell 1-1 0-0 2, Mariauna Hughes 3-4 2-4 8, Jaymeisha Davis 0-0 0-0 0. Totals 29-62 14-17 82
FG%: Mt. Juliet .500, East Nashville .468. 3-pt FG:Mt. Juliet 10-20 (Majors 2-3, Heilman 5-13, Riggs 1-2, Howard 2-2), East Nashville 10-27 (Shaw 3-5, Jones 1-3, Knox 2-8, Fairs 4-11). Rebounds: Mt. Juliet 23 (Jones 7), East Nashville 37 (Hughes 12). Fouls Mt. Juliet 14, East Nashville 14. Fouled out: Jones . Technical: none. Assists: Mt. Juliet 19 (Majors 11), East Nashville 20 (Knox 7). Steals: Mt. Juliet 7 (Jones 3), East Nashville 14 (Knox 4). Blocked shots: Mt. Juliet 0, East Nashville 2 (Jones 1, Fairs 1). Turnovers: Mt. Juliet 19, East Nashville 10.
East Nashville Looks to Rebound After Tough Loss
East Nashville Eagles squared off in a battle of the undefeated with Mount Juliet. The contest was fairly even throughout most of the game. East Nashville and Mount Juliet were close in scoring in every quarter. However, one quarter made all the difference – the second. Mount Juliet outscored East Nashville 16-9 in the second, and the Eagles couldn't catch up afterwards, eventually losing 79-66.
East Nashville's head coach Avery Patton questioned whether his team was "mentally prepared" heading into this tough battle and took responsibility for his team's lack of preparation.
"We went through some adversity today and wasn't mentally prepared," said Patton. "That's our fault as coaches. It is up to the players to get ready but it is up to us to prepare them.
East Nashville had a tough time stopping Mount Juliet's Will Pruitt, who scored a double-double with 31 points and ten rebounds. Pruitt shot 63% from the field. The Eagles' highest scorer was Isaiah Jones with 27 points. Jones got going mostly in the second half to try and will his team back into the game.
Jones' effort was contagious as the Eagles kept fighting, and Patton commended his team for not giving up until the final buzzer.
"That is a tough team that we played. Another good AAA team on our schedule is Hillsboro and we play them on Friday. The guys didn't give up. We had one bad quarter that we just couldn't get back from. It's early in the season so we will get this fixed," added Patton.
Mt. Juliet (7-0)
Will Pruitt 12-19 6-7 31, Riggs Abner 3-12 0-0 6, Isaac Thompson 3-5 0-0 6, Gage Wells 6-10 0-0 17, Zach Blair 2-2 0-0 6, Jacob Burge 0-0 0-0 0, Charles Clark 5-8 0-0 11, Mo Ruttlen 0-0 2-2 2. Totals 31-56 8-9 79
East Nashville (3-1)
Jarrod Taylor 6-9 1-1 14, Jaylen Jones 2-5 2-2 8, Josh Cole 1-4 0-0 2, Willie Wilson 1-6 0-0 3, Trey Shaw 0-4 2-2 2, Chris Echols 0-0 2-2 2, Korion Turrentine 0-1 1-2 1, Rashaun Richardson 3-4 1-1 7, Isaiah Jones 11-17 2-4 27. Totals 24-50 11-14 66
SCORE BY PERIODS
Mt. Juliet
22 16 20 21 79
East Nashville
16 9 20 21 66
FG%: Mt. Juliet .554, East Nashville .480. 3-pt FG:Mt. Juliet 9-16 (Pruitt 1-2, Abner 0-4, Wells 5-7, Blair 2-2, Clark 1-1), East Nashville 7-19 (Taylor 1-3, Jones 2-3, Cole 0-2, Wilson 1-4, Shaw 0-1, Jones 3-6). Rebounds: Mt. Juliet 26 (Pruitt 7, Abner 7), East Nashville 25 (Jones 10). Fouls Mt. Juliet 15, East Nashville 13. Fouled out: Clark . Technical: none. Assists: Mt. Juliet 18 (Pruitt 10), East Nashville 10 (Wilson 3). Steals: Mt. Juliet 8 (Wells 3), East Nashville 14 (Shaw 4, Jones 4). Blocked shots: Mt. Juliet 2 (Abner 1, Burge 1), East Nashville 5 (Jones 2, Jones 2). Turnovers: Mt. Juliet 16, East Nashville 1