By Othor Cain 
JACKSON, MS — Jackie Hampton, publisher of The Mississippi Link newspaper and a member since August 14, 2000, attended the Mississippi Press Association (MPA)/Louisiana Press Association (LPA) joint summer convention July 7-9, 2017 where she was confirmed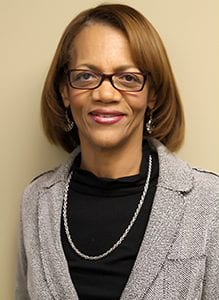 as the first minority to become a member of the Board of Directors of MPA.
It was soon after Hampton returned from the National Newspaper Publishers Association's annual summer convention, where she was chosen Publisher of the Year by her peers, that she received a phone call from Layne Bruce, Executive Director of the Mississippi Press Association (MPA), asking if she would consider serving on the Board of Directors for MPA. After just a few questions regarding meeting schedules, Hampton replied that it would be an honor to serve.
Bruce, in a quote to The Tennessee Tribune stated, "We are pleased and excited Jackie has joined the MPA Board of Directors. She's a valued member and we are looking forward to working with her to ensure a bright, sustainable future for newspaper media in Mississippi."
Bruce said that The Mississippi Link newspaper was the first minority owned newspaper to become a member of the MPA family. They became a member on August 14, 2000.
By Clint Confehr
NASHVILLE, TN — Rosetta Miller Perry, publisher/CEO of the state-wide Tennessee Tribune, became a member of the Tennessee Press Association at its July convention in Franklin. That's 17 years after her best friend's newspaper, the Mississippi Link, was accepted as a member of the Mississippi Press Association.
"We are the first Black newspaper to become a member of the TPA, and I hope Nashville Pride, The New Tri-State Defender and Chattanooga Courier apply for membership," Perry said.
She said her newspaper would benefit from TPA's expertise and training sessions needed by smaller newspapers. Perry also said she misses her late friend Gary Cunningham (Greenhill News) who was instrumental in training her sales staff and advising her years before his passing. And, she said, they spoke three weeks before his death about the pros and cons of joining the TPA. Cunningham told her the association had excellent training for Tennessee newspapers.
This summer, TPA changed rules to admit free circulation newspapers, paving the way for Tribune membership.
"We have always had both: paid; and free circulation," Perry said.
Welcoming Tribune membership is TPA President Eric Barnes, publisher of the Ledger in Nashville and Knoxville, Hamilton County Herald, Memphis News and Daily News, Memphis.
"I'm glad to see all papers join — free papers, including some of ours," Barnes said. "We've all known free newspapers are real journalistic outlets doing great work in their communities for their readers. It's just a kind of an odd, historical anomaly that free papers weren't allowed in. We're stronger, as an association, for having done what we did" for them.
"It's also great that we have the first and, hopefully, not the last, minority paper in the association," Barnes said. "It's just more reflective of readership … I'd love to see The New Tri-State Defender come in." Barnes counts Bernal Smith, publisher of the Memphis weekly, as a friend, and wants to "coax and prod" him into joining TPA. Smith serves African- American communities.
"We have some alternative weeklies in the association that have some screaming-liberal, controversial voices," Barnes said. "That's a good thing."
Print journalism is now "incredibly important" on a national and local level, Barnes said.
The Tribune's status as the first minority newspaper in TPA is substantiated, to the best of their knowledge, by TPA member services manager Robyn Gentile, a 25-year association employee, and two long-time TPA leaders, Sam Kennedy, Kennedy Newspapers, Columbia, and Ron Fryar, Cannon Courier, Woodbury, who are on TPA's Membership Committee. It unanimously accepted Perry's application. Fryar, a two-time association president, is TPA's immediate-past-president. Former TPA president Kennedy has been publishing since 1970.
Kennedy and Fryar advocate free circulation newspaper membership to strengthen TPA, they said. Kennedy owns Lawrence County Advocate, Lawrenceburg, a free, total-market-circulation weekly.
Fryar, Kennedy and Gentile know of no membership prohibition against newspaper publishers in a constitutionally-protected class of people.
Perry joined TPA for the same reasons others joined, she said. It exists "to help member publishers achieve greater success than each could attain individually," says TPA's June 16, 2011 mission statement.
Tribune General Manager and Advertising Director James Artis attended TPA's July conference where he learned Perry's application was accepted. Artis attended seminars on advertising, marketing and circulation strategies.
"They emphasized the digital age … coupling with the press, so we're well-rounded as far as disseminating our information to the community," Artis said. Statistics, examples and things to do and what to avoid were offered. "It was informative." The Tribune's advertising representative Russell Rivers also attended.
Newspapers become members after acceptance of a publisher's application. Staffers enjoy training, credentials and other services, but aren't members. Therefore, Nashville's Robert Churchwell, the first black reporter at a major Southern daily, doesn't disqualify Perry as the first minority in TPA. Gentile is unaware of another past or present minority member in TPA.
It was founded in 1870- 71 to create a unified voice for Tennessee's newspaper industry. The Tribune celebrated its 25th anniversary last fall.
The Tribune anticipates long, mutually-beneficial relationships with Tennessee's daily and non-daily newspaper trade association, the parent organization of Tennessee Press Service and Tennessee Press Association Foundation.