By Wiley Henry
MEMPHIS, TN — In 2017, Sable Otey pushed very hard to make it to the 2018 XXIII Olympics Winter Games in PyeongChang, Korea. She pushed and pushed, but couldn't summon enough strength or push fast enough to rocket the bobsled out of the gate during tryouts in Calgary, Canada.
"I crashed several times. At the beginning, I just got out-pushed," she said. Two U.S. teams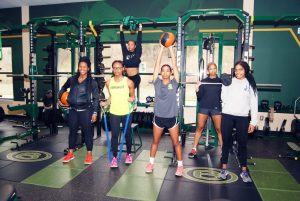 made it to Korea. Otey and her pilot failed to qualify. Still, she went on to witness the dazzling display of Olympic glory in Korea. 
While the memories are still fresh in Otey's mind, she has not regretted her Olympic experience. Instead, she has refocused her attention on coaching and training student athletes in track and field.
She has a wealth of experience to offer budding athletes training in sprints, hurdles and jumps, including speed development training, strength and power training (without weights), and post injury training.
"I want to develop athletes," said Otey, a conference champion at George Mason University in Fairfax, Va., where she received a B.S. in Exercise Science in 2011. She also earned a Master's Degree in Education in 2012 at National University in San Diego, Calif.
On Saturday, Feb. 16, Otey ran through a series of exercises at Briarcrest Christian School with a half dozen student athletes in the school's weight room. She runs a sports development-training program there after school.
"If you give me a kid, I promise you'll see a difference in 30 minutes," said Otey, confident of her ability to produce quality athletes. 
She wouldn't get an argument out of Jada Okhiria, an 18-year-old senior at Briarcrest. "She helps me a lot. I see a huge difference from over the years since she's been coaching me," said Okhiria, a triple jump and long jump specialist. 
Okhiria has played competitive tennis too since she was nine years old and has been active in track and field since the eighth-grade. After graduation, she plans to walk on at Pepperdine University in Malibu, Calif. 
Okhiria is a jumper, not a runner. Other student athletes like Darrian Joiner and Lyndsey Herron are runners. The Briarcrest seniors work out several days a week after school to improve their athleticism.
Much of Otey's training includes biomechanics and center of mass to keep student athletes from hurting themselves. "A lot of kids get injured because they are not trained how to run properly," she said.
Joiner gets the point. "I'm learning how to get mentally stronger and how to condition my muscles for endurance," the 17-year-old said. "She [Otey] helps me to focus on technique and work on the little things, like form." 
Joiner has trained for the triple jump, the long jump, 4 x 100 meters, 4 x 200 meters, 4 x 400 meters, the 200-meter dash and the 400-meter dash. She has also trained for the shot put. 
"But I can definitely use more help," she conceded. 
Herron's personal best in the 100-meter race is 13.2 seconds. She also runs the 200 meters, the 4 x 100 meters and the 4 x 200 meters. "I want to see if my time is low enough to qualify for a track scholarship," she said.
Working with student athletes is a synch for Otey. She works them into shape and literally pushes them to do their very best, much like she had to do herself. Her teaching method comes from her Olympic training.
"She's teaching me form, endurance and how to get out of the block," said Herron, 17, who has run track since fifth-grade. "I'm learning how to run long, not lean back, but forward…run on my tiptoes, not my heels." 
While Otey works hard to equip and empower her student athletes, she continues to work out herself. She's five months pregnant with her second child and still expends energy while maintaining the physicality that made her an Olympian. 
Motherhood is important to Otey as well. So is her 14-year marriage to Rueben Otey and their business, Millionaire Millennial Movement, a financial services firm. Otey is the chief executive officer.
That day in Briarcrest's weight room, the group of student athletes couldn't believe that their trainer was physically fit to demonstrate the proper way to lift the weight bar. 
One of them exclaimed, "…and she's pregnant too!" 
Otey just smiled. She's used to pushing the limits.