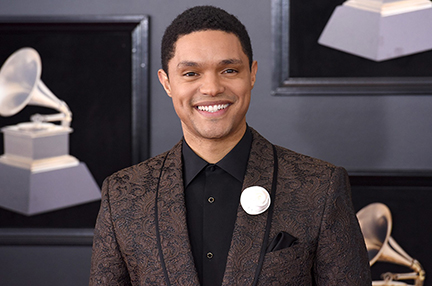 By Ron Wynn
NASHVILLE, TN — There will be lots of scrutiny focused on the results of the 2021 Grammys for multiple reasons. One will be its new host, comedian and "The Daily Show" host Trevor Noah. He'll be center stage when the show airs Jan. 31 at 7 p.m. CST on CBS (locally WTVF-5). But more importantly, many are wondering whether it will be another night of snubs for vocalist/actress Beyonce. Her "Black Parade" dominated news when the nominations were announced, as it received nine. 
But many wondering if 2021 will be a repeat of 2017. That year Beyonce's "Lemonade," also a nine time nominee, lost Album of the Year honors to Adele's "25." Beyonce did get two awards that year, as "Formation" won best urban contemporary album and music video. To date, she has won 24 Grammys.
"Black Parade" was nominated for Record of the Year and released as a commemoration of Juneteenth, paying homage to Black entrepreneurs. The star simultaneously launched a web market place on her personal website, allowing consumers to back the calls of Black Lives Matter by supporting Black entrepreneurs. She also shares a nomination with fellow Houston native rapper Megan Thee Stallion for "Savage." It received Record of the Year, Best Rap Performance and Best Rap Song nominations. This year's nine brings Beyonce's total of Grammy nominations to 79. She's tied with Sir Paul McCartney as the second most nominated person. Her husband, rapper-mogul Jay Z, is tied with Quincy Jones for first place, both having 80 nominations. The couple share nominations this year on "Savage" and "Black Parade."
"Brown Skin Girl," from the "Black Is King" album is nominated for best video. The song was made in tribute to Black women with darker complexions who are often disregarded for not conforming to European beauty standards. Beyoncé's oldest daughter Blue Ivy appears on the track and music video, and could make history if she wins with her mom. "Black is King" is also nominated for best music film.
Jay-Z has his own tale of snubs. He was nominated eight times in 2018 for his album "4:44" and won zero awards.
Increasingly, Black musicians and critics are becoming more vocal about their feelings that the Grammys are not fairly or fully honoring and recognizing the contributions of African American musicians and creators. Some feel the Black creative community should put less importance and emphasis on both Grammys and the show since they don't think the program was ever designed or intended to honor them anyhow.
Still, there are other Black artists whose music has been nominated. These include Jhene Aiko's "Chilombo," nominated for Album of the Year, and rappers Da Baby and Roddy Ricch's "Rockstar," up for Record of the Year. Vocalist H.E.R. is nominated for Song of the Year with her Black Lives Matter anthem, "I can't breathe." Other songs advocating for Black liberation that received nominations include Lil Baby's "The Bigger Picture" (Best Rap Song, Best Rap Performance) and Anderson Paak's "Lockdown" (Best Melodic Rap Performance, Best Music Video). Megan Thee Stallion received four nominations including Best New Artist. She's competing with rapper Doja Cat in that category.