By Vivian Shipe
KNOXVILLE, TN — Grooves in the Garden, the annual fundraiser for UUNIK Academy, was a huge success. The event drew over 300 attendees and featured The Sugar Shack band from Memphis, awesome female DJ., Lady Spin from Louisiana, delicious foods, a free shuttle service to the Botanical Gardens where the event was held, top security, dance areas, food vendors, information booths, nurses on site, a VIP pavilion, a cigar lounge, top shelf bar area, and Knoxville 's own Tearsa Smith, reporter for WATE TV 6 as Mistress of Ceremony.
Despite a day of heavy rain, by the time of the event, the clouds parted, Sugar Shack took to the stage and the party grooved into the night in cooler temps with a light breeze and no drama. It was a true grown folks affair, but it was all for the children of UUNIK Academy, a program of black educational excellence run by Reggie Jenkins for over 20 years.
The annual event benefits the academy that serves black youth,and has served over 4000 children under the vision of Founder and Director Reggie Jenkins.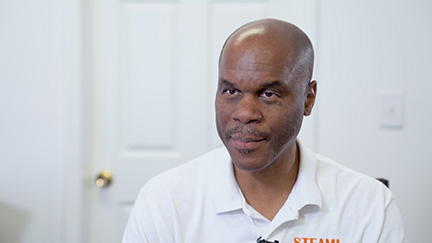 UUNIK stands for five of the seven principles of Kwanza; Umoja, which stands for unity, Ujaama, collective economics, Nia, purpose, Imani, faith, and Kujichagulia, self-determination.
Jenkins strives to not only ensure his students have the best education, he also gives them an understanding of where their people come from, a sense of culture and how they fit into the world.
Jenkins truly believes that young people can be great when they know they come from greatness, and believes identity is important. Jenkins believes answering questions about where his young black students come from, giving them a healthy sense of responsibility based on culture, is crucial as a solid understanding of their past enables them to look forward to the future.
The academy has specific goals for each student: to respect self and others, to honor and respect elders, to become knowledgeable of African and African American history and culture, to understand how to work and how to lead, self-control, and understand basic money management.
In addition to the academy Jenkins holds the STEAMI Summer Institute which is an annual effort to address the academic and discipline problems of Black male youth within the Knoxville community.
For information or to support the efforts of the academy, contact Director Reggie Jenkins at PO Box 5872 Knoxville TN 37928, 865 384 4475, or info@uunikacademy.org