By Vivian Shipe
KNOXVILLE, TN — "When We Fight, WE WIN." Those were the words the sellout crowd boldly chanted during the 100 year anniversary celebration of the founding of the Knoxville Branch of the NAACP. 
The event was celebrated with a sold out Honors Award Gala held at Mount Calvary Baptist Church on November 14th.
It was an historic night of resolutions read by Mayor Madeline Rogero, awards presented to pillars of the community, and a rousing no-nonsense speech by Mrs. Gloria J. Sweet-Love, President, Tennessee State Conference NAACP in Jackson, TN.
Local President Rev. Dr. John Butler stood by her side as Mayor Rogero read her resolution recognizing the accomplishments of the Knoxville Chapter and declared November 14th "NAACP Day."
The Chapter recognized seven long-serving organizations and individuals with the Fighting
for Justice Awards which were presented in the areas of politics which went to One Knox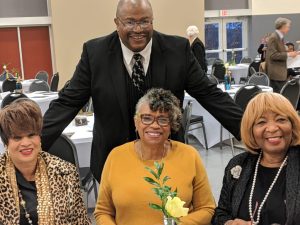 Legacy Coalition, the Education award given to Stop School Push Out, The Social Justice Award was given to C.O.N.N.E.C.T. Ministries, and the Economic Award was given to TN Health Care Campaign. The awards were presented by Cynthia J. Finch, Branch Secretary and Audrey Wallace, Membership Chairman.
The Branch also gave special honors awards which were presented by President Butler. Mount Calvary Baptist Church received the Faith Community Award, The Beck Cultural Exchange Center received the Legacy Award, and the Presidents Award was given to the Honorable Rev. Dr. Harold Middlebrook.
A special award was given posthumously in honor of dedicated long-time servant and 3rd Vice President, Carla Brown, for her decades of service to the NAACP and the Knoxville community.
State President and ordained gospel preacher, Gloria J. Sweet-Love, was the gala keynote speaker. She gave a bold eye opening speech to the sell-out crowd and reminded them of the importance and the power of the vote. She minced no words, "Stop leaving your fate in the hands of others!" she said. "Where do you stand?" "Whose side are you on?" she boldly asked the crowd.
As the program came to an end, the crowd showed where it stood as they lined up to fill out their membership cards to join the Knoxville local as it prepared to" Fight and Win" for another 100 years.