By Cillea Houghton 
NASHVILLE, TN — Though he grew up surrounded by the arts, Nashville-based writer and filmmaker Alan Nettles spent his childhood believing that filmmaking was an out of reach dream, due to the lack of black filmmakers other than his role models Tyler Perry and Spike Lee. "Little did I know there are tons of black directors, even in Hollywood, but their names don't ring as loudly as a Martin Scorsese or Steven Spielberg," Nettles said. 
But with his new short film, Wear the Crown, Nettles is giving a voice to African American artists in the south. 
During his first orientation session as a freshman at HBCU Howard University in Washington, D.C., Nettles learned that filmmaking was in fact an attainable career, surrounded by black students with the same aspirations who encouraged him to pursue the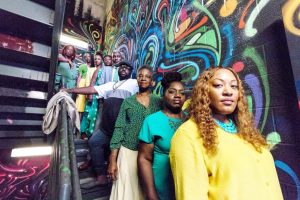 craft and inspired him to change his major from psychology to film. Nettles, who graduated from Tennessee State University in 2019 with a Bachelor of Science in Communication Studies with concentration in TV and film production, launched his production company Moving4ward Productions with his 2015 debut short film 3 Blind Boys on the Block, created in response to the killings of Trayvon Martin, Eric Garner and others. It was named Best of Fest at the 2015 Chi-Town Multicultural Film Festival. 
His new short film, Wear the Crown, is also socially conscious, dealing with themes of cancer, abortion, mental health and the dogma of Christian principles in the African American community. 
"They tell the stories of our people. They're stories that are generational, that  are authentic and real black stories, not the media's portrayal of black stories or white Hollywood who look at what black stories are," he said of his approach to filmmaking. "We're in the middle of a societal famine and at the time I wanted to do something to change that. The one thing that I can create is content, and my content will speak to my people."
Wear the Crown, named after the gospel song "I Shall Wear a Crown," is inspired by his aunt Tracey Reid, who is battling stage four cancer for the second time. The plot chronicles the fictional, Louisville-based Price family when matriarch Winnie Price is re-diagnosed with liver cancer. As she tries to bring her four adult children together to tell them the news, years of conflict between them get in the way of her ability to connect with each of her children. 
Additionally, Wear the Crown is produced by a team of first-time female producers, Cillea Houghton, Sabrina Moore and Janice Wheaton. Moore, who majored in mechanical engineering at TSU in the 1980s and became the first African American woman to work as the assistant nuclear plant operator for Tennessee Valley Authority, returned to TSU in 2017, currently working toward a degree in mass communication. Moore met Nettles in a communications class at TSU and he offered her an internship with M4P in summer of 2019, later promoting her to line producer for Wear the Crown. "I think a lot of times in the African American community, we overlook the importance of our health and the importance of the lives that we touch when we neglect our health and how much easier it is to take those steps toward preventative healthcare," she explains of the film's importance. "Opening the eyes of the community to the story is important to continue to bring awareness."
Wheaton, a senior at Elon University in North Carolina, said it feels "amazing" to be a first-time female African American producer. "I'm still in school, and there's not a ton of women who look like me in my research. This opportunity is so special, because it's giving me the chance to learn and to be a part of history," she said. 
For Nettles, Wear the Crown is an important step in his own career, serving as his first major film production since 3 Blind Boys and the play The African American Experience: A Walk Through Time, which was produced through the Community Academy of Music & Arts at TSU in July 2018. The film is comprised of a predominantly African American cast, many of whom harbor a connection to the film and "have a stake hold in this story, in this family overcoming tragedy, and it's very heartwarming, it's very touching. I think people should give it a chance," he said. "When you come to a Moving4ward production, you leave inspired, you leave invigorated." 
Wear the Crown will make its premiere at Poag Auditorium on Sat., Dec. 14 at 7:30 p.m. Tickets are on sale now at Eventbrite.