"Growing up in post-racial America, Juneteenth was a little known holiday outside of the black community. It feels like while much progress has been made, some things have not changed with regards to knowledge of not only our struggles as freed citizens, but also of our accomplishments. Whenever we get too proud, history tends to repeat itself to some degree in order to keep us in our place."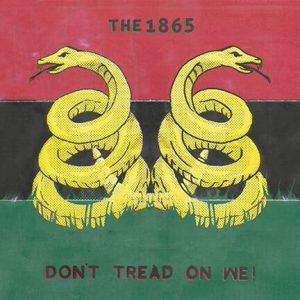 Thankfully we live in more modern times and have a broader reach for communicating and spreading awareness. Think of Don't Tread On We! as a study in both our past and present.
To quote the end of our song "Peggy," "Life's hard, I know..time to pick up the pieces". We made this record to lift every voice and guitar and celebrate our history and strides." – The 1865
Watch the "Get Out" video HERE & listen to Don't Tread On We! HERE.
Catch The 1865 Live!
6/22 @ Punk Island (Randalls Island) – New York, NY
7/13 @ PunkBlack Fest – Washington, DC
8/8 @ Mercury Lounge – New York, NY
About 1865:
With a departure from Mass Appeal's typical hip-hop sound, The 1865 describe themselves as "Bad Brains meets Foo Fighters in a black woman's hair salon for a cup of tea." Formed in 2017 by musician/filmmaker Sacha Jenkins (The White Mandingos, The Wilding Incident), The 1865 came to life when joined by famed session musician/Pro-skateboarder Chuck Treece on drums and the Queen of Shoegaze Carolyn "Honeychild" Coleman (Apollo Heights, Badawi) on lead vocals/baritone guitar duties. The band later added Afro-Brazilian bassist Flora Lucini (Maafa), and drummer Jason "Biz" Lucas (Dragonz of Zynth) to the mix. The result is The 1865, a band whose lyrics are just as impactful as their undeniable sound and what Jenkins says "was a great way to create contemporary music that spoke to the past, but also spoke to the same things that continue to happen over and over again in our country."
For show bookings, please contact Justin Nabors (WME) at JNabors@wmeentertainment.com