NASHVILLE, TN — Programs, workshops and educational events are just some of the ways the Music City Center is providing Diverse Business Enterprises opportunities to grow their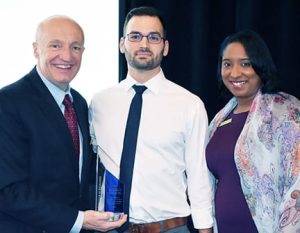 businesses. Through its Diversity Business Enterprise Program, businesses are offered various networking and procurement opportunities throughout the year.
Proposal 101 Workshop launched this year, providing attendees with procurement tips and resources from local and federal entities.
"My business was not only impacted by the presenter and her professionalism but the other attendees also. I gained two opportunities just at my table. The workshop was truly an asset to the community of small businesses," said Connie Green, owner of Coverall Products.
Additional programs offered this year included a business forum in collaboration with the First Tennessee Bank and the Nashville Chamber of Commerce as well as the Food and Beverage Seminar, providing in-depth guidelines on doing business with the Music City Center food and beverage department. 
The 5th annual DBE appreciation breakfast took place this month to celebrate another successful year and show appreciation for vendors and suppliers.  One outstanding vendor/supplier is presented with the Vendor of Excellence award, which went to R.J. Wherry & Associates, Inc.
"The Music City Center is grateful for all of our DBE participants," said Charles Starks, President/CEO of Music City Center. "We value our diverse community and strive to help small, minority and women-owned businesses succeed with their goals."
In the first quarter of fiscal year 2019, MCC achieved a 38 percent DBE participation, spending $831,759 with minority, women-owned and small businesses. Additionally, the Music City Center's contractors spent a combined $492,000 with DBE firms. The building generated over $59 million in direct economic impact during the months of October and November. 
If interested in doing business with the Music City Center, contact Jasmine Quattlebaum, director of Purchasing/DBE at 615-401-1445 or at jasmine.quattlebaum@nashvillemcc.com.
The Music City Center, Nashville's convention center, features a 353,143 square foot exhibit hall, the 57,500 square foot Karl F. Dean Grand Ballroom, and an 18,000 square foot Davidson Ballroom. The building includes an art collection featuring local and regional artists, a covered three-level parking garage with 1,800 spaces, and is LEED Gold certified. The Nashville Songwriter's Hall of Fame is also located inside the Music City Center at the corner of 6th Avenue and Demonbreun.