By Ron Wynn
NASHVILLE, TN — Nashville percussionist Tom Larson has been actively involved in a very special cause the past four years: helping find ways to protect schools and churches in Uganda from prevalent lightning strikes. He witnessed the problem first hand in 2014 after appearing at a festival in Kabale, Uganda produced by the Global Livingston Institute. There he learned that the local school was frequently hit by lightning, and  things were so bad that not only had many children been hurt, but there were times when the schools had to shut down.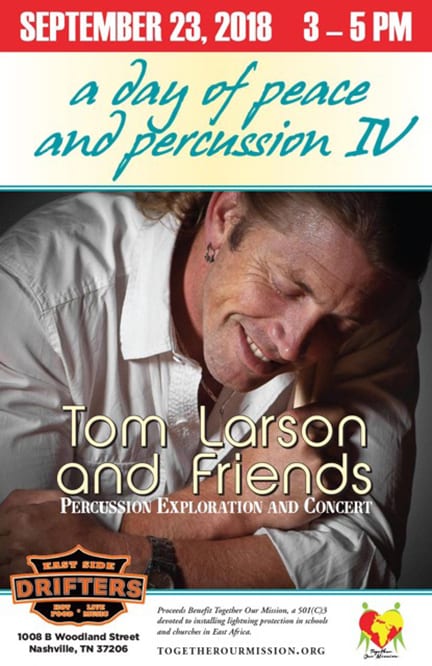 Larson joined forces with Patrick Doyle and Vincent Avila to design a system that was installed on a school in Kisiizi. It lowered the chances of lightning striking the school by dissipating the electricity into the ground. But this was just the first step. Larson subsequently founded Together Our Mission, a (501) (c) organization which regularly raises funds to get more dissipators installed at schools and churches not only in Uganda, but across Eastern Africa.
This Sunday Larson and Together Our Mission will present "A Day Of Peace And Percussion – Tom Larson and Friends Percussion Exploration and Concert. It's a combination fundraiser and concert at Drifters in East Nashville beginning at 3 p.m. Proceeds will go towards installing dissipators at more East African schools and churches.
"I didn't realize just how severe the problem was until I began playing over there," Larson said during a recent interview. "It's truly a major safety problem that has hindered educational efforts in a great many cities because the children can't safely attend schools. In turn it  negatively affects a lot of other things in the region. We've seen that these dissipators really make a difference, but they're still greatly needed in many areas."
Together Our Mission has stayed busy with this effort since its 2014 launch. Larson has made several trips to East African locales as part of this effort. His organization's enabled hundreds, if not thousands, of school children to pursue their education on a regular basis without fear of lightning strikes, and, also helped churches re-establish their regular services and programs.
A Nashville resident since 1996, Tom Larson's credentials as a percussionist are both diverse and impressive. He started studying Classical Percussion at Fort Lewis College in Durango, but cites his time in New Orleans as critical to enhancing his skills and broadening his interests. He eventually graduated from the University of New Orleans' esteemed Jazz studies program, where he studied alongside the likes of Ellis Marsalis, David Lee, and Victor Goines among others, as well as private studies with Johnny Vidacovich.
"My time in New Orleans was special, especially the dealings with Ellis Marsalis, although it didn't start out so great," Larson recalls. "There were times when we clashed and he'd kick me out, then welcome me back. But he was there when I did my final recital for graduation and he had a lot of good things to say afterward. I really got the chance to stretch out while in New Orleans, and you really can get a taste of every kind of music that's out there."
After playing in the Crescent City with groups ranging from jazz and blues to rock and country, Larson's walked a similar path in Music City. He's worked with a host of bands, among the Delicious Blues Stew, the Gene Hafner Trio, Homemade Water and The Norris Twins, while serving as drummer and road manager for the Scott Holt Band over a decade.
Larson's been involved with over 100 projects during his time in Nashville, everything from gospel to jazz to the soundtrack for a play. He's also worked with Shannon Williford and the late James "Nick" Nixon on blues education workshops, as well as percussion workshops for the city parks director.
But he's never abandoned his interest in or advocacy for East Africa. He's serve as the musical director for the HIV Awareness Entusi Music Festival since 2014. It began in just one city (Kabale) but has since expanded to four. It's dedicated to both peace and cross-cultural friendship through musical collaboration, as well as HIV awareness through testing and treatment.
A two-time winner of the Percussionist of the Year Award as well as a former Music City Blues Drummer of the Year, Tom Larson's impeccable musical accomplishments are exceeded only by his zeal to make sure East African children can safely pursue their education, and their citizens can attend the church of their choice without concern for the life-threatening impact of lightning.
"It's a cause where you can see the immediate impact of what you're doing and the positive things that result from it," Larson concluded. "We're hopeful that as more people find out about this situation and contribute we can do even more to address the situation, and make sure that children going to school and people attending church can do it without fear of the damage from lighting strikes."
(A Day of Peace and Percussion – Tom Larson and Friends Percussion Exploration and Concert, Sunday September 23 at Drifters,, 1008 B Woodland Street in East Nashville, from 3-5. For more information visit www.TogetherOurMission.Org)