By Wiley Henry
MEMPHIS, TN — By now most people know that WDIA AM 1070 was the first radio station in the United States in 1949 to provide programming entirely for blacks featuring black radio personalities.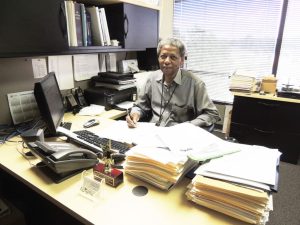 Remember Theo "Bless My Bones" Wade, Nat D. Williams, Martha Jean "The Queen" Steinberg, Maurice "Hot Rod" Hulbert, Ford Nelson, A.C. "Moohah" Williams, Markhum "Mark" L. Stansbury Sr. and other black on-air radio pioneers? 
They were integral to WDIA's successful transition from country and western to urban oldies and classic soul. The latter format was conducive to the station's output of 50,000 watts of black listening power. 
But it is unlikely that the WDIA listening audience would know Alonzo Pendleton. That's because Pendleton worked behind the scene to make sure the signal and other electronic gadgetry at the station operated at optimum levels. 
Pendleton was hired as an engineer in April of 1971. He retired this year in April after devoting 48 years of his life doing what he loves best. 
"I started with WDIA because that was one of the things that I was good at – radio technology," said Pendleton, a former amateur radio operator prior to joining the station.
He was in his mid-20s when good fortune knocked on his door. In fact, it was Pendleton who came knocking on WDIA's door looking for a job after graduating from Memphis State University in 1970 with a Bachelor of Science degree in electrical engineering.
"When I graduated, it was the year that the space program was laying off thousands of engineers around the country. So the engineering field was flooded," Pendleton recalls.
That year – 1970 – the nation's space budget and jobs were slashed. As a result, thousands of engineers and technicians scampered to find any kind of job just to take care of their families. The aerospace industry had essentially crashed.
"I couldn't find a job in engineering anywhere. In the Memphis area, there wasn't anything. So I stopped telling people that I had a degree."
It was slim pickings for engineering jobs – anywhere. Pendleton, however, forged ahead, focusing his job search instead on WDIA. Not knowing if he would get a job, he completed the application nonetheless and hoped for the best.
"The chief engineer asked me to come in one night because I kept bugging him about a job every other day or so," Pendleton remembers.
That night, he said Henry Fones, the chief engineer, was trying to restore the power to a transmitter that had stumped Fones and his assistant. Pendleton said he had never seen the transmitter, but offered to help.
 "They could not find the problem with the transmitter," he said.
A transmitter produces radio waves with an antenna and travels through the air at the speed of light. Electric current is then produced and sends a signal, the heartbeat of radio. If the signal fades, or dies, it could cost a radio station more than money. 
"I was sitting at the desk as they worked on the transmitter, and looking at the diagram, and listening to what they were saying as they made checks and measurements."
It then occurred to Pendleton that the capacitor in the transmitter might be the problem. He told Fones what he'd deduced, but "the chief engineer said, 'No, it couldn't be the capacitor.'"
The transmitter, he said, continued to baffle Fones and his assistant. "So he got frustrated and said, 'Okay, I'll check that capacitor.'"
Pendleton said Fones couldn't find the capacitor in the transmitter and was sure – without a doubt – the capacitor wasn't there.
"I argued with him and said, 'No. It's got to be there.'"
Pendleton was steadfast; he held his ground. Fones, however, relented and took another look. He discovered that the capacitor was indeed in the transmitter; however, it had exploded into shreds.
Fones ran home to get a capacitor, he said. "It took him about 30 minutes. He got back, put the capacitor in, and the transmitter came right up and started working."
Pendleton had impressed Fones. His knowledge and forethought had spoken volumes about his skillset. "He said, 'I got to have you on my team.'"
Pendleton had trudged ahead in spite of the grim job market for engineers and landed squarely on his feet at WDIA. 
Over the course of his employment, Pendleton had worked with Theo "Bless My Bones" Wade, Nat D. Williams, Robert "Honey Boy" Thomas and others. They'd taken the station to new heights. Pendleton, however, provided the power – 50,000 watts.
"It was a blessing to work with them, to even know them," said Pendleton, being modest about his own legacy and contributions to WDIA.
Management had been all white until 1972 when Charles "Chuck" Scruggs broke the color barrier. He was hired as WDIA's general manager and vice president, the first black person to hold the position. 
Scruggs had added a little color to management and understood the importance of Pendleton's job. When the chief engineer position became vacant, Scruggs promoted Pendleton.
"You can't get any higher than chief engineer," said Pendleton, who had survived several buyouts during his tenure. After carving out his own legacy at WDIA, he bid farewell to iHeartMedia Inc., the station's owner.
"I love the industry," he said. "I actually didn't want to retire. But you get older."