By Vivian Shipe
KNOXVILLE, TN — It took three packed board meetings to show they meant business and the message that they were going to KEEP coming back, but in the end, the citizens of Knoxville prevailed.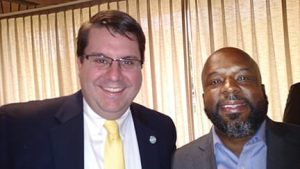 Before a packed assembly of over 700 people including state legislature, city council and commissioners and over 20 of clergy in the affected district; the Knox County school board, which had initially planned to totally remove Project Grad and all funds for magnet school programs at Sarah Moore Green and Green Magnet Academy, voted to keep the programs in the budget.
This change of mind, which had never been done before in the history of Knoxville, was directly attributed to the city-wide massive turnout by Bob Thomas, superintendent.
The funding  levels were lowered for the magnet programs and the talented and gifted staff were reduced.  Project Grad received half of their funding request and was allowed 500k. However, Ronni Chandler, Executive Director said they would reach out to their private partners who provide 2/3 of their funds to help find the rest of the monies needed to continue serving the inner city students as they have for 18 years.
The community plans to attend the Knox County commission meeting on May 24th to ask for an increase in the prospective school budget to fully fund the three programs affected and to ask for a 2 percent raise for the teachers.