By Vivian Shipe
KNOXVILLE, TN — How good it must have felt to Ronni Chandler, Executive Director of Project Grad, head held high, smiling, marching across the stage of the Knoxville Convention Center; confidently leading into their future, the college bound 20th class of Project Grad graduates.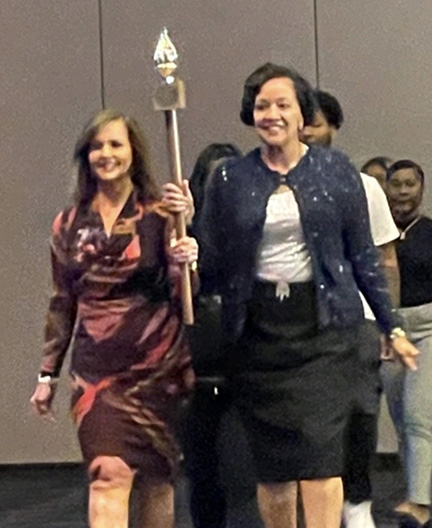 For over two decades Chandler and her highly competent team have served the students who have come through their program with great dedication. In spite of an effort by some to end the program a few years ago, ( which was met with such a historic pushback from the community that the effort was stopped) the program has again and again proved to be one of the most successful programs in the country.
Project Grad. Grad  stands for  Graduation Really Achieves Dreams, and has for 20 years achieved their goals . The program works with students from K-16 and  serves over 7000 every year. The program serves two high schools, two middle schools, and ten elementary school programs.
Entering into their lives early on, Grad provides strong student and family support by connecting needs to resources. The schools serve students who face challenges in many areas, among them poverty and unemployment, low wages, disparities, and food and health deserts.
Serving the 14 inner city schools , the program has been successful in increasing high school graduation rates resulting in an increase from 50 to 83 percent, increased post secondary enrollment from 30 to 56 percent, and increased post secondary graduation, exceeding the 10 percent national average as Project Grad has a 45 percent completion rate.
Over the last 20 years Project Grad which is now a nationally recognized College/Career program, has made a significant impact and produced thousands of graduates serving in a plethora of positions worldwide. The mission has never changed… impact generational change through education.
Over and over Project Grad has accomplished that mission
A victory march was indeed the order of the day.