By Logan Langlois
NASHVILLE, TN — Platinum RIAA-certified Atlantic Records artist SUECO performed an electric set Wednesday at the Basement East, complete with the artist crowd surfing the audience with a literal surfboard, stage diving, and mosh pits. SUECO came to Nashville in the middle of his Wasted Space Tour, where he will be traveling internationally following the success of his most recent music including the album It Was Fun While It Lasted and the album's hit single POS. It's during tours such as these, that the artist detailed he has some of his most connecting experiences with the fans that he's been able to cultivate internationally, as well as begin to focus on what steps lie ahead for him within his ever-changing life.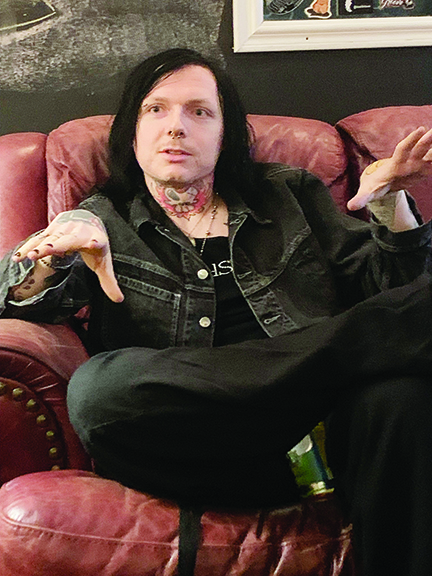 When SUECO first stepped on the scene, it was under the reputation of a producer of well-crafted rap and hip-hop beats for other artists during the "Soundcloud era." It was evolving with this crowd that influenced both his musical and visual style at the time, with him embracing shiny grills, blue-dyed hair, and bass-heavy rap beats designed to more likely make a crowd dance above everything else. Now he says his style has changed in a way in which he feels he's "went back to a little bit more [of] my roots" both physically and musically, dying his hair black and grabbing a guitar to reflect his rock-centered influences.
His latest release, POS, reflects a more introspective SUECO, who is more apt to confront self-deprecating inner voices telling him that he is the lowest of the low, unworthy of even a passing mention if he were to suddenly go missing one day. The track's chorus represents SUECO pushing back against these negative voices in his life and instead taking charge against the influence to silence it.
This stamping out of negative influence extends to his real life, as he's currently almost two years into quitting a drinking habit that had him in "[the] deepest, darkest …. Full-blown alcoholic" phase of his life. Now he's said he's committed his time to learn good habits while continuing to unlearn the bad, something that he says is going to be reflected in the newest batch of songs he has "cooking up", as well as his latest album.
"A little bit of that process was the album It Was Fun While It Lasted. Kinda the journey I wanted to go through that album was starting off in darkness and ultimately finding your way to the light," SUECO said. "A lot of what I'm working on now is making that way to the light and figuring out how to be human."
The Basement East's crowd erupted throughout the night as SUECO himself routinely jumped directly into the audience, sometimes riding a surfboard on top of their hands, and sometimes moshing with them during the drop of one of his songs. At the end of the night, the audience was directed by the artist to form a 'Wall of Death', which is when the crowd divides in half parallel from each other across the center of the room and run into each other in friendly rough house fashion. Though, the artist also made sure to encourage the audience to watch out for each other throughout the night, not wanting anyone hurt. SUECO can be found on all streaming platforms, social media, and his website under the same name.