SOKHUMI, Abkhazia — An avalanche of snow was replaced by a vast waterfall that flooded over the side of a cliff before forming a huge mound on the mountainside below in remote Abkhazia.
The footage was filmed by a local tourist guide Ruslan at the 70-meter (230-foot) Gegsky waterfall in the self-governing but largely unrecognized state of Abkhazia on the Black Sea.
The waterfall is one of the Caucasian nation's prime attractions, though few know its sublime snowy phenomenon.
"Every year, an avalanche descends, and I know about it. This avalanche is dozens of times larger than others due to the peculiarity of the relief," said Ruslan to Zenger News.
Ruslan and his tour group approached the waterfall from the left, as the avalanche "always descends to the right or in the center."
Despite the screams caught on camera, Ruslan said, "No one was hurt. We were near great danger but not in danger."
Soviet film buffs will recognize the Gegsky waterfall from flicks such as 'Sportloto-82', 'Rikki-Tikki-Tavi,' and 'The Adventures of Sherlock Holmes and Dr. Watson.'
Ruslan, who preferred not to disclose his surname and whose age is unclear, said, "I have seen more than once an avalanche. They take place here every year, only this one was many times larger than the others."
"The group liked it, and they thanked me for taking them there via the safe side and showing them such a spectacle."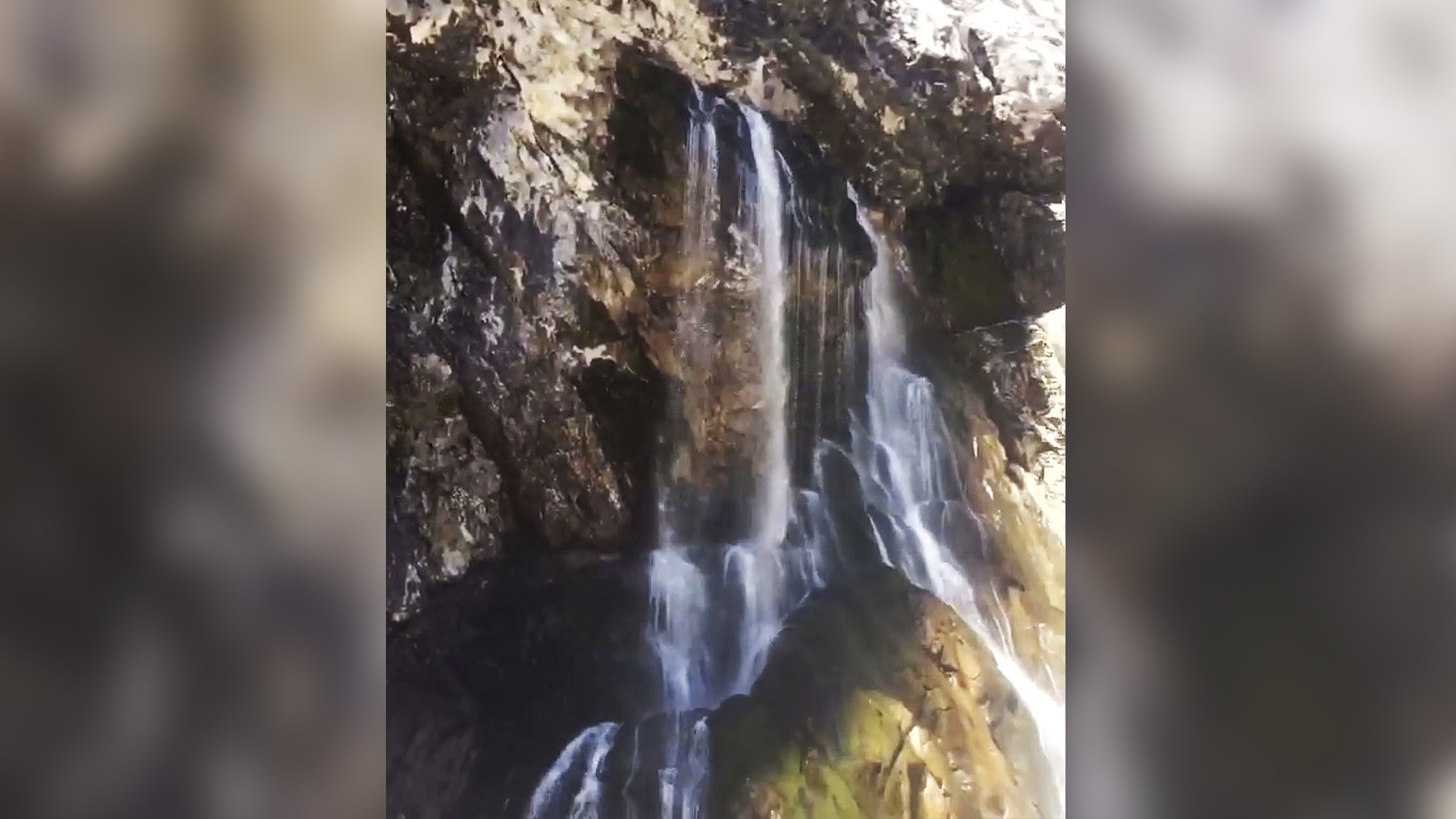 As per reports from National Snow and Ice Data Center, an avalanche requires a mass of snow and a slope to slide down. A large avalanche in North America might release 230,000 cubic meters (300,000 cubic yards) of snow. That is the equivalent of 20 football fields filled 3 meters (10 feet) deep with snow.
"However, such large avalanches are often naturally released when the snowpack becomes unstable, and layers of snow begin to fail. Skiers and recreationists usually trigger smaller but often more deadly avalanches," states the report.
An avalanche has three main parts. The starting zone is the most volatile area of a slope, where unstable snow can fracture from the surrounding snow cover and begin to slide. Typical starting zones are higher up on slopes. However, given the right conditions, snow can crack at any point on the slope.
"The avalanche track is the path or channel that an avalanche follows as it goes downhill," states the report. "Large vertical swaths of trees missing from a slope or chute-like clearings are often signs that large avalanches frequently run there, creating their own tracks."
The runout zone is where the snow and debris finally come to a stop. Similarly, this is also the location of the deposition zone, where the snow and debris pile the highest.
(Edited by Saptak Datta and Vaibhav Vishwanath Pawar.)
The post VIDEO: Snow Falls: Water Replaced By Avalanche In Incredible Display At Sherlock Holmes Mountain appeared first on Zenger News.