By Peter White
NASHVILLE, TN — A small group of Fisk University students and activists from the Peoples' Alliance For Transit, Housing, and Employment (PATHE) held a funeral procession Thursday for Nashville's gentrified neighborhoods. Holding cardboard gravestones they marched down Jefferson Street to TSU's Elliott Hall where an Open House for Mayor Megan Barry's transit plan was being held.
Organizer Khem Plata grew up in New York where he said urban planners built highways over people in the South Bronx and Harlem.
"So people move to the suburbs and are able to come in and make the money, spend the money, and go right over the people who are dying under the bridges to go back to another reality," Plata said.
"It's happening here and it's happening around the country," he said. Plata fears the working poor will be the losers if Nashville adopts a $5.2 billion 15-year transportation solution to its snarled traffic, long commute times, and unreliable bus service.
"If this is our place and we like it here we have to make a stand," Plata said.
Plata thinks the Mayor's plan to bring light rail and fast buses to Nashville is a bit like the "upside down" of "Stranger Things" in the Netflix sci-fi series where a dark and menacing underworld threatens the small town of Hawkins, Indiana, where the tale takes place.
Angelique Johnson likes the idea of a light rail system but would rather spend money on a more reliable bus service and more affordable housing.
"We're just tired of being pushed out or displaced. We want to stay in our neighborhood," said Johnson of Music City Riders United (M-CRU).
On the brighter side of a more promising future, Metro's Planning Department has mounted a big public relations campaign with four-color petitions, transit maps, and posters extolling the benefits of building a transit system to "bring transportation independence to all Nashvillians".
Barry spokesman Sean Braisted said two open house community events have already been held, six more are scheduled, and there will be more before the city council votes on the transit plan sometime early next year.
The events are not set up like town hall meetings. Tables are set around a room manned by city employees who are familiar with various aspects of the transit plan. Braisted said the idea was to give people a chance move around and ask questions to learn about the proposed system.
Indeed, there was no hard sell at TSU last week, just planners eager to answer questions. The Charlotte to Gallatin light rail line will be phased in over a number of years.
"You would get to about 440 on Charlotte with the first phase of light rail and continue on further out towards Nashville West over time," said Michael Briggs. "On Gallatin you would get out to Briley Parkway and continue on to Rivergate in the future," he said.
There will be light rail service to the airport on the Murfreesboro line but it won't happen soon. Briggs said the only option now would be by buses that would run more frequently between the airport and downtown. Those changes have not been made yet.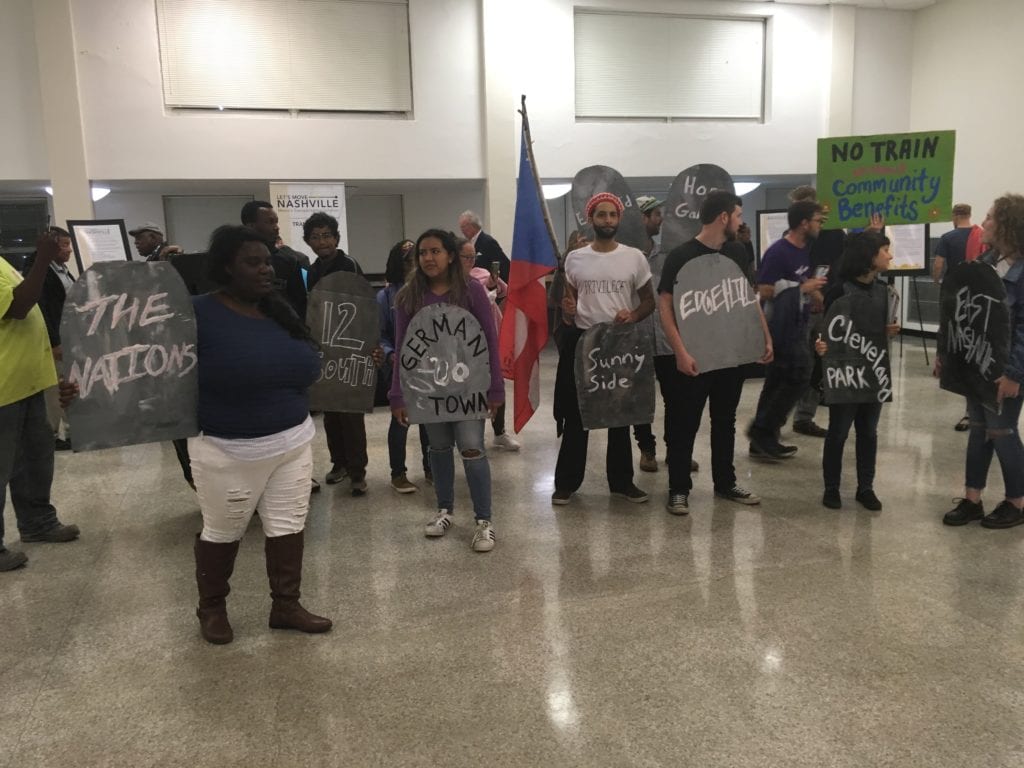 Protesters interrupted the open house with chants to "shut it down" and then they formed a circle in the middle of the room to pray that Mayor Barry's "Let's Move Nashville" campaign won't involve moving them out of town.
"The biggest challenge is to those who are most affected and devastated by gentrification and lack of pubic transit. They are struggling to make it day to day," said PATHE's Jack Willey.
Johnson relies on public transit everyday because she is legally blind. She takes the bus to work, to shop, to do laundry, and to take her two kids to school. They attend different schools but have the same start time. She wakes up at 4 am to catch the buses she needs to get them there by 7:45 in the morning.
Johnson lives in Bordeaux and takes the Number 22. She can take the bus into town but until recently she couldn't get back at night. Service stopped up Clarksville Pike to her neighborhood around 6 pm. The MTA recently extended service on the Bordeaux 22 line until 10:45 pm. Johnson said M-CRU has been petitioning, holding protests, and negotiating for months with MTA to improve the bus schedule to Bordeaux. Their efforts finally paid off.
"We want the bus lines expanded now, not two years from now, not three years from now. People have been fighting for expanded bus transit for years and we need to see that happen now, not later," said Austin Sauerbrie with Home for All Nashville.
He said people who live in Nashville on less than $40,000 per year want more money spent on affordable housing because there is less of it every day.
"We want to make sure that with this new $5.2 billion plan that the jobs attached to that project are living wage jobs and not poverty wage jobs like we've seen over and over. We would like to see our communities benefit from that investment not just get trampled like we've seen in many other large public projects," he said.
If the Mayor's plan is passed by the city council, it will face a voter's referendum in the Spring.