Eddie Bayers: Recording and/or Touring Musician
A top studio drummer of country music's modern era, Eddie Bayers has played on Nashville recordings since the mid-1970s. Originally a keyboardist, he shifted to drums under the mentorship of famed drummer Larrie Londin. Significant early sessions for Bayers included the 1980 Urban Cowboy movie soundtrack and Dolly Parton's 9 to 5 and Odd Jobs album. Bayers developed longstanding working relationships with many artists including the Judds, Ricky Skaggs, George Strait, Alan Jackson, and Kenny Chesney. Highly respected by his country music peers, Bayers was named the Academy of Country Music's top drummer fourteen times between 1991 and 2010.
Ray Charles: Veterans Era Artist
A pioneer of R&B, Ray Charles (1930–2004) was also enormously influential in country music. With his landmark 1962 album Modern Sounds in Country and Western Music, the soulful singer and pianist put his own indelible stamp on country songs, broadening the music's appeal and audience. He made country music a significant part of his repertoire from that point forward, collaborating frequently with country artists, such as Johnny Cash and Willie Nelson. Blind since age seven, Charles overcame barriers of disability and race to transform American popular music, becoming one of the most revered and recognized entertainers in the world.
Pete Drake: Recording and/or Touring Musician
Pedal steel guitarist Pete Drake (1932-1988) left a lasting mark not only on country music, but also on rock, gospel, and folk music. He moved to Nashville in 1959 and quickly became a first-call session musician, playing on countless country hits. Later, he contributed to folk and rock records by Bob Dylan, Joan Baez, George Harrison, and Elvis Presley. He also produced albums by artists as varied as B.J. Thomas and Ringo Starr. His impact extended to owning a recording studio, founding two independent record labels, and establishing music publishing firms that promoted writers such as David Allan Coe and Dottie West.
The Judds: Modern Era Artist
The Judds—mother Naomi and daughter Wynonna—helped take country back to its roots in the 1980s with lean, tuneful songs influenced by traditional folk music, acoustic blues, and family harmony acts. Wynonna was the lead singer with a husky, expressive voice, who could growl with bluesy intensity or articulate heartache with tender sensitivity. Naomi provided harmony, wit, and a sashaying stage presence that engaged audiences. Between 1984 and 1991, the Judds scored a remarkable twenty Top Ten hits—including fourteen #1s. They also won five Grammys, nine CMA awards, and seven ACM awards.
Tragically, Naomi died at age seventy-six on April 30, 2022, the day before she and Wynonna were to be inducted into the Country Music Hall of Fame. The museum, the Judds' family and fans, and the entertainment industry mourn her sudden passing.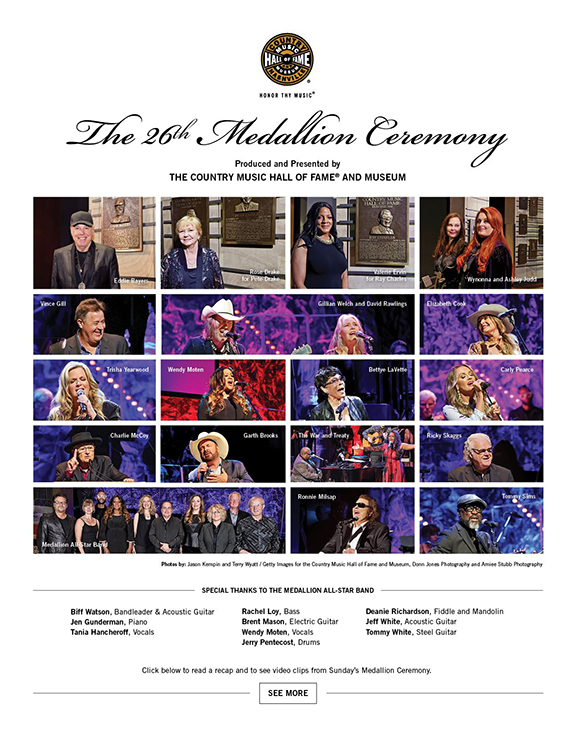 The Country Music Hall of Fame accolade was created by the Country Music Association (CMA), the country music industry's trade organization, to recognize significant contributions to the advancement of country music in both the creative and business communities. Election to the Hall of Fame is solely the prerogative of the CMA.
Through an agreement with the CMA, the role of the Country Music Hall of Fame® and Museum is to exhibit the bronze likenesses of the members of the Hall of Fame in a space and fashion befitting the honor. New members, elected annually by a panel of industry executives chosen by the CMA, are inducted formally during the Medallion Ceremony, part of the annual reunion of Country Music Hall of Fame members hosted by the Country Music Hall of Fame and Museum.
On that celebrated and private occasion, members of that august body join the members-elect, their families, friends, and business associates to welcome the new class of honorees into their midst. Each new member-elect is inducted by a fellow Hall of Fame member, who presents them with a commemorative medallion to be worn at each subsequent reunion of the membership.