NASHVILLE, TN — The Church of the Messiah was the site of a continuous series of Community Connect events in the 19th State Senatorial District.  Located on Layfayette Ave, across from Cameron School and in the heart of J C Napier Homes and University Court, the citizens and business people of this area expressed their concerns, ranging from economic growth, to crime to education.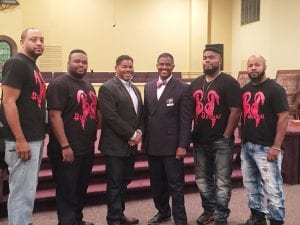 Rev. Bryan Williams, Senior Pastor of Messiah, explained the need to listen and learn from the citizens of the area.  "We want to be a strong core of this community and its outreach.  We want our children to be educated and not afraid to walk to school and come home to a safe environment.  We want our young adults to be gainfully employed because they were well trained in school, technology centers and higher education. "  He went on to say, "As citizens we should demand this and as citizens, we deserve it."
The attentive audience, listened as Candidate Howard Jones, talked about the history of this area, and the public housing named after James C. Napier, a Nashville native, businessman, politician and lawyer.  He was Register of the United States Treasury—1911-1913, and is one of only five (5) African Amenicans to have their signatures on American currency. "When we see the violence taking place in this area, and particularly youth violence, we dishonor the name and life of Mr. Napier."
Jones explained, "Education can make a positive difference in the lives of our children and our communities.  WE need to teach them the value of education and help them attain it by parent involvement, as well as the community as a whole."
Jones explained that education stretches to economic empowerment and development. "Fort Negley, built by slaves, buried in unmarked graves,   it is reported, can be a special place for all Americans.  The work of those men, many who died from diseases brought on by the treacherous work conditions,  should be honored.  A Monument to those valiant soldiers should be built and partnerships with community organizations should be a part of any new development, if it takes place. Fort Negley  has a history that could propel it into a major national park for all citizens and all of America and the world."
Jones summed up his presentation by saying, children can get an excellent education and economic development can exist in this area so that everyone can experience a quality of life that is second to none.  "We Can and We Will Do This," he stated.