Remain undefeated with 12-0 win despite committing eight turnovers.
BIRMINGHAM, AL — The Middle Tennessee Bulldawgs (3-0) survived their first ever road test in the Gridiron Developmental Football League defeating a tough Alabama Sabre team 12-0 in Birmingham, Alabama. After a scoreless first quarter, Bulldawg starting quarterback Cass Barnes went down went a lower body injury. On the next play from scrimmage, his back up Zach Ducker drew a strike to second year man Antwon Edmondson for a touchdown to allow the visitors to take a 6-0 halftime lead.
Bruising running back Rahiim Muhammad closed out the scoring with a tough run from four yards out to start the third quarter. The story of the night were both defenses not giving up much. The Sabres forced eight Bulldawg turnovers, twice setting up their offense deep inside Bulldawg territory. The Bulldawgs showed restraint by not giving up much. Alabama ended the night with four total first downs.
Despite not scoring much, Middle Tennessee head coach Cromwell Stewart left the game with some positives. Most of his accolades went to the defense.
"We knew going in that they weren't going to lay down and let us rolled on them," said Stewart. Any time you go on the road in this league it will be tough. Our offense moved the ball well but we could not convert. We were in the "purple zone" (inside their 20-yard line) five times and came up with zero points. Our kicker could not make the trip so that hurt us. He would have put points on the board. Our defense has always been our bread and butter. We slid out of there with a victory. In this league I will take that."
Edmondson's touchdown reception is his third in two games. The Bulldawgs went into the game with their top three receivers, Jeremie "Bird" Whittaker, Stevie Hendricks and Daryl Clack not dressing. A challenge was given to the receiving core by offensive coordinator DeQuinn Watford. Edmondson and fellow receivers Lawrence Gilbert and  Corvon Booker stepped up and made plays.
"I just wait until my number is called and stay ready," said Edmondson. "Coach (Watford)challenged us and I wanted to meet his challenge. The veterans on the team has confidence in me. I want to do my job to show my appreciation."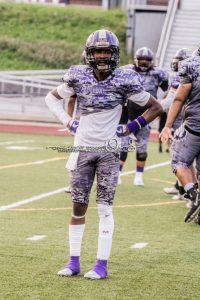 The victory sets up a huge showdown this Saturday in Nashville against the top team in the league the Huntsville Rockets.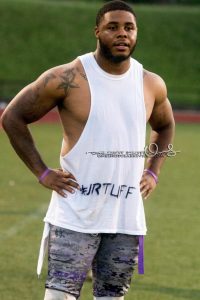 Dawg Bites:
• Bulldawg defensive tackle Twan Armstrong lost his toddler son this past Friday. Armstrong made the trip to Birmingham and played with a heavy heart. Players wore #JrTuff on their shoes, shirts and wristbands to show support.
• The Bulldawgs will host a kid's camp prior to the game from 1pm-4pm this Saturday. Former University of Tennessee stars AJ Johnson and Eric Gordon will be on hand as special guests. Bulldawg players and coaches will conduct the camp.
• Defensive end Joseph Hawkins has shined in his first year with the Bulldawgs. His two sacks this past Saturday give him eight on the season.