By Tribune Staff
NASHVILLE, TN — Nearly 300 students recently received book bags, school supplies, lunch and dental hygiene screenings courtesy of a dental clinic at Southern Hills hospital.
Dr. Jacqueline Butler Mitchell, proprietor of Integrity Dental Care in Building C of Southern Hills Medical Center, 397 Wallace Road, says 309 children were served 8 a.m. to noon Saturday, July 29.
"We had it in the lobby so parents and their kids didn't have to go up and down the elevator," Dr. Mitchell says.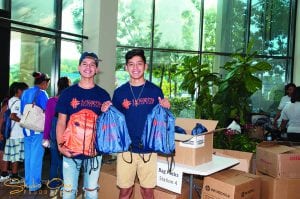 "This is our second year," Mitchell says. "Parents brought the children. We saw children ages five though 17. We gave dental screening for the kids and we gave the parents a report card to let them know what our findings were.
"We did find some kids in need of treatment," Mitchell says. "We scheduled appointments for those kids There were no abscesses, but we did see some pretty big cavities. We want to catch them before they become abscesses and infected."
She had 350 back packs available. With 309 distributed that day, Dr. Mitchell had 41 left. By Wednesday afternoon, she had one left to donate to another young patient.
"The children were excited about the school supplies found in the back packs," she says. "We couldn't give them all the supplies they'll need, but it's exciting to get them started.
"For my staff and I, it was very rewarding, reaching out to the community."
Integrity Dental Care serves patients from all walks of life," Mitchell says, noting her patients include African Americans, Hispanics, Asians, Arabs, Egyptians and white people.
"It's rewarding to be in the melting pot of Nashville," Dr. Mitchell says.
She's a member of Mt. Zion Baptist Church which partnered Aug. 6 with a Brentwood church to distribute back packs in Hadley Park.
"My people can't walk that far," Dr. Mitchell said. "Many of them walked to my office.
"This year we took it to another level with screenings and report cards," she says. "And we did give them lunch; a sandwich and chips, a fruit cup and a bottle of water.
"We had that catered by Evans' Family Kitchen & Catering Company," Dr. Mitchell says. "They recently opened a spot in the Farmers' Market. They've been open 2-3 weeks."