By Logan Langlois
NASHVILLE, TN — Dr. Preston Harris, a former intern for The Tennessee Tribune is now a Nashville dentist, a dentures and implants specialist. Harris reflects on how his time at the Tribune helped prepare him for a career that many at a casual glance would typically consider to be a far cry from journalism work. Harris's story begins at the onset of his sophomore year while attending Fisk University, a time in his life in which he was trying to network far more often to find his professional footing. It was during this period that he heard the publisher and CEO of The Tennessee Tribune Rosetta Miller-Perry, known in the Black university student community surrounding Harris as 'Mama Perry,' was offering internships, for which he readily applied. Upon being accepted into the program, Harris began learning further lessons regarding both life and professionalism that he is still thankful for contributing to much of his success today.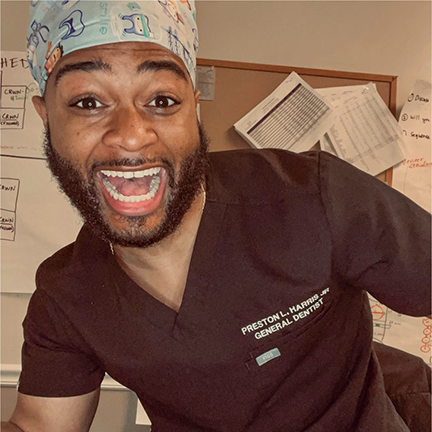 During his time interning at the Tribune, Harris was mostly responsible for assisting in the day-to-day operations of the paper. This often-included lending a helping hand in all the work that goes into running a paper that isn't the writing and researching of news including editing, organizing, inventory, and publishing. Throughout his time working under Rosetta Miller-Perry, Harris says he learned many of the interpersonal skills that would go on to advance his career in dentistry, including advice that he would not have expected going into the program.
Prior to enrolling at Fisk University in 2009, Harris remembers that he was mainly known as the class clown to his friends and peers while attending high school. Many of them knew him for his outgoing and likable personality, and as he reflects, would often not take his mentions of wanting to pursue a career in dentistry too terribly seriously. However, dentistry is something that Harris says he has known he would make his life work ever from a young age.
"Since my junior year of high school, my interest has always been dentistry," he said with a smile.
Once Harris had begun working at the Tribune under Miller-Perry, he says that she immediately began imparting upon his advice as to how he could use his lighthearted class clown likable personality to serve his career. Harris further detailed how at the time; the nature of Miller-Perry's advice greatly surprised him as he always thought that he'd have to shoulder his personality to better function in a medical career such as dentistry. However, Miller-Perry worked to quickly correct his way of thinking, inviting him out to different events taking place throughout the Nashville Black community and showing him that it professionally paid to be someone that can related to on a personal level.
"It really just exposed me to the opportunity to kinda be myself. Oftentimes we're like 'Oh you gotta wear a white coat, you gotta have this particular personality.' And she was like, 'Man you need to be yourself!'"
It was shortly after this that he saw the proof in Miller-Perry's words, as he found himself continuously making meaningful connections both through his embracing his livelier personality and Miller-Perry herself. After graduating Fisk, he would go on to attend the University of Tennessee Knoxville, and then later contact Miller-Perry once again after finishing his studies in Knoxville to tell her that he was moving back again to Nashville. She immediately worked to help him reach out to old connections and make his way home again.