By Clint Confehr
FRANKLIN, TN — A great great grandson of Frederick Douglass recently attracted local interest in his family's initiative to combat modern slavery, human trafficking.
Kevin Greene of Murfreesboro told nearly 100 people about the Frederick Douglass Family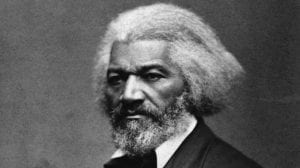 Initiative, an abolitionist organization co-founded by direct descendants of Frederick Douglass and Booker T. Washington.
Before emancipation, Douglass realized "knowledge makes a man unfit to be a slave." Now, the Frederick Douglass family offers education for teachers, families, students and community leaders to stop human trafficking.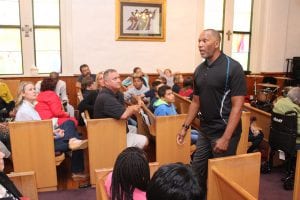 Greene emphasized the message — it's easier to build strong children than repair broken men — during a program by the African American Heritage Society of Williamson County at First Missionary Baptist Church, 113 Natchez St. Usually, AAHSWC Porch Talks are at the society's McLemore House Museum, 447 11th Ave., N., for individuals or small groups on the first Friday of each month.
State law requires teachers and others to report suspected child abuse to authorities. Frederick Douglass Family Initiatives curriculum tells what to look for. See fdfi.org.
AAHSWC President Alma McLemore says she believes the Franklin-based historical society can help obtain curriculum for schools in Williamson County. "I know we can do something here."
Greene says the curriculum may be used at church meetings.
It's too early for details on what may be done in Williamson County, but organizational discussions and meetings seem to be starting.
Perry Winn Hunt of Mt. Pleasant helped McLemore find Greene for the Sept. 1 program. He advocates the FDFI curriculum.
Frederick Douglass was born a slave on the Eastern Shore of Maryland, Greene said. He knew his father was a slave master and, as a child, he played with his master's white children. After Douglass was taken to Baltimore, his new master's wife taught him how to read and write. She was chastised because "knowledge makes a man unfit to be a slave," Greene said, quoting Douglass.
Douglass' escape from slavery, his career as an abolitionist, writer, editor and publisher, service as an Army recruiter, a U.S. Marshall in Washington, and ambassador to Haiti, and his campaign to be vice president of the U.S. were mentioned by Greene who advocates in-depth reading of Douglass' books.
The exact date of Douglass' birth is unknown, "So, they took it all," Greene said of his family's decision to consider this year and 2018 as the appropriate time to celebrate the 200th anniversary of Douglass' birth. Part of that celebration is the bicentennial edition of Douglass' first book, "The Narrative of the Life of Frederick Douglass, an American Slave."
Greene accepted questions Sept. 1. Asked about controversy over Fort Negley and plans for land near Adventure Science Museum in Nashville, she said, "It's very important that it stay what it is;" a Union fort built by African Americans, many of whom died during construction.