Nashville, Tennessee – The Islamic Center of Williamson County and the Al-Farooq Islamic Center extend a warm invitation to the community for our "Meet Your Muslim Neighbor" event. Join us as we explore the theme of fostering harmony among Jews, Muslims, and people of diverse faiths during challenging times. These gatherings aim to strengthen understanding bonds while celebrating our vibrant community's rich tapestry.
Locations:
1. Sat. Oct. 28 10.30 am: Islamic Center of Williamson County – 320 Mallory Station Rd, Franklin, TN
2. Sun. Oct. 29 12:00 pm: Al-Farooq Islamic Center – 67 Thompson Lane, Nashville, TN 37311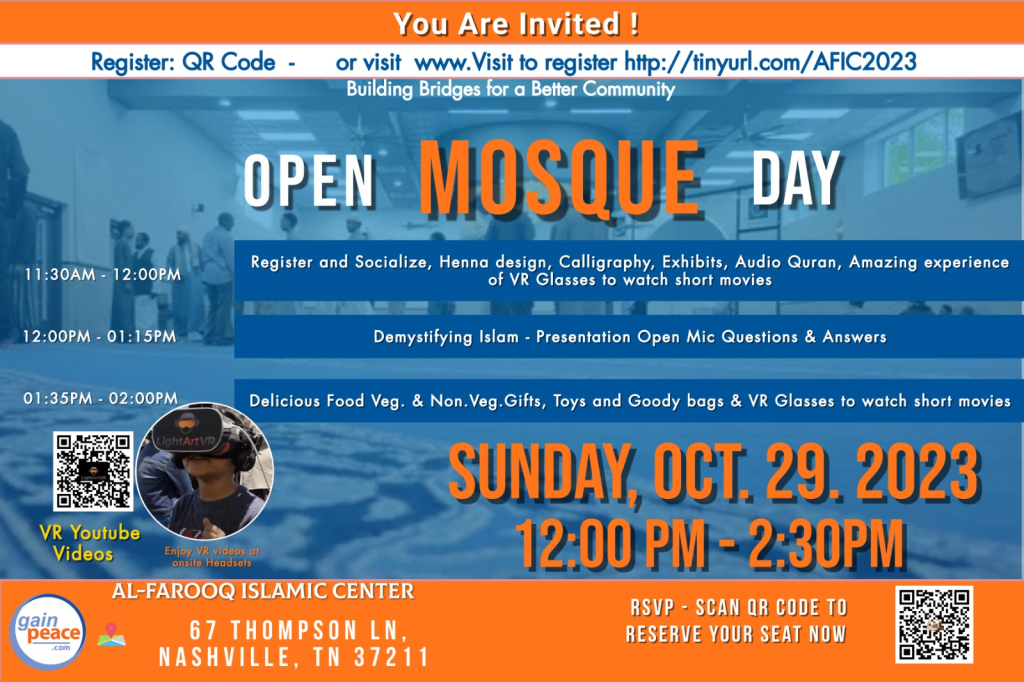 Our "Meet Your Muslim Neighbor" Open Houses promise an enriching experience for individuals of all backgrounds. Come together, embrace Islamic culture and traditions, and engage in meaningful dialogues with your Muslim neighbors. This event will offer:
PROGRAMS:
1. Guided Tours: Explore our mosque and discover its profound significance in Islamic faith and practice.
2. Informative Presentation: Gain insights into aspects of our faith and culture that are often discussed publicly but frequently misrepresented or misunderstood.
3. Q&A Sessions: Foster open, respectful conversations with local Muslims, encouraging questions and dialogues that promote mutual understanding.
4. Cultural Exhibits: Immerse yourself in the vibrant culture and heritage of the Muslim community through displays of traditional clothing, art, henna, and more.
5. Delightful Cuisine: Savor an array of homemade Middle Eastern and South Asian dishes, offering a tantalizing glimpse into Muslim culinary traditions.
This event is open to all, free of charge, and we wholeheartedly encourage everyone to attend, ask questions, and forge connections.