NASHVILLE, TN — Hundreds of downtown workers participated in the 2018 Nashville Connector Commuter Challenge to reduce the number of single-occupancy vehicle trips during the week of October 22 through 28. Whether it was taking advantage of the WeGo/RTA public transportation network, carpooling, walking, biking or remote working, nearly 600 participants took approximately 3,500 non-drive-alone commute trips during the challenge.
"The commuter challenge was a creative and successful approach to get downtown employees thinking of more ways to get to work than just single-occupancy rides," said Mayor David Briley. "Getting more people out of their cars helps reduce pollution and relieve congestion. We need to continue to show people the benefits of taking public transit, carpooling, biking and other transportation options outside of one person, one car."
Public transportation was the top mode of alternative travel, followed by carpooling, remote working and bicycling. Some shining examples from the 18 organizations participating in the challenge include:
Baker Donelson, winner of the Business Engagement Award
Downtown law firm Baker Donelson is receiving the Business Engagement Award. With nearly 70 participants, they took 119 non-drive-alone commute round trips. 72 of those were people trying a transportation method for the first time. The company really got into the spirit of the competition, assigning captains for each mode of transportation and providing internal incentives for participation. Upping the ante on transportation creativity, participants even paddled down the Cumberland one chilly morning to get to work. Participants reported having a blast trying new things and fostering office spirit throughout the week. Transportation methods used included transit, carpool, bicycle, scooter, walking, and paddling.
 Tennessee Department of Environment & Conservation,
winner of the Government Agency Award
Living up to their name, TDEC rallied over 150 employees to participate in the Challenge,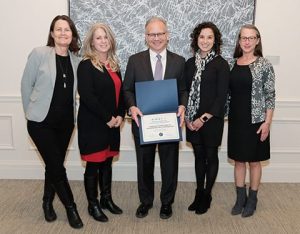 earning the Government Agency Award. Participants took nearly 500 non-drive-alone commute round trips. 56 of those were people trying a transportation method for the first time – primarily bus, carpool, and remote work. Nearly all participants reported that they plan to continue to use a new method they tried, at least occasionally. Internally, TDEC heavily promoted the program and had a competition between divisions with prizes for some of their best performers. Transportation methods used included bus, carpool, remote work, train, vanpool, bicycle, and walking.
The Studio 208, winner of the Small Business Award
Downtown art gallery The Studio 208 achieved 100% employee participation, earning the Small Business Award. The gallery made sure each employee knew their full range of transportation options and walked them through the process of taking the bus. All employees reported a willingness to continue using the new methods they tried, showing
just how vital it is to get someone over the hurdle of trying something for the first time. Transportation methods used included bus, remote work, and walking.
Each organization received their award from Mayor David Briley on Tuesday, November 20, 2018. 
"The feedback we received from participants was overwhelmingly positive, with most saying they would seek to use alternative methods of getting to work when possible," said Miranda Clements, program manager for Nashville Connector. "We look forward to connecting more commuters in Nashville with information about the many options they have to reduce the stress of driving to work in a way that promotes a better community for all."
Nashville Connector, a division within the Metro Planning Department, is initially focusing on large downtown employers to design programs that work best for their workforces with the goal of reducing single-occupancy vehicle trips into the city's core.
Nashville Connector is the information hub for Nashville's commute needs. As Davidson County's first transportation demand management program, Nashville Connector aims to educate residents about existing transportation options. The program is funded by a federal grant through the Tennessee Department of Transportation (TDOT). Nashville Connector works in collaboration with TDOT, WeGo Public Transit and the Regional Transportation Authority. For more information about Nashville Connector, visit nashconnector.org.