By Coleman Bomar
(this article was first published in Williamson Herald)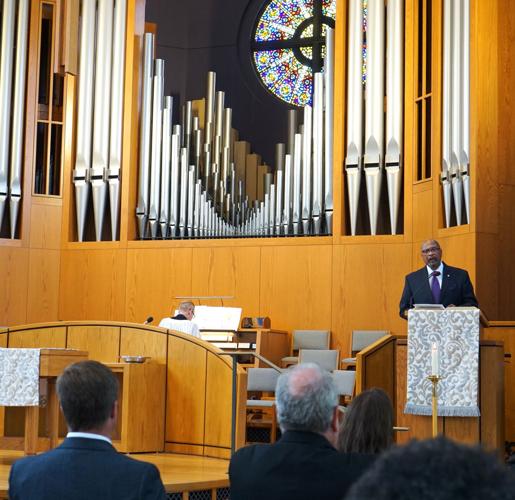 Franklin, Tenn.—Unite Williamson hosted a Service of Lament and Hope Tuesday at First Presbyterian Church in Franklin, honoring the 10 victims of a racist mass shooting May 14 in Buffalo, New York.
Leaders from Protestant, Catholic, Jewish, Islamic and Mormon faith traditions across Williamson County joined together to offer prayers for justice and a call for communitywide unity. They decried the effects of white supremacy on those living in Buffalo, Williamson County and citizens worldwide.
"In these days, it seems like there is so much hate, particularly among races," said Hewitt Sawyer, pastor of Harpeth Primitive Baptist Church in Franklin. "It used to be far away from your home, but now it seems like it's at our backdoors. … I recognize that much of the same thought pattern goes on right here in our city. So, I pray, God, that you would bless right now, this city."
He prayed for Buffalo that victims' families would find peace and justice and then prayed for Franklin.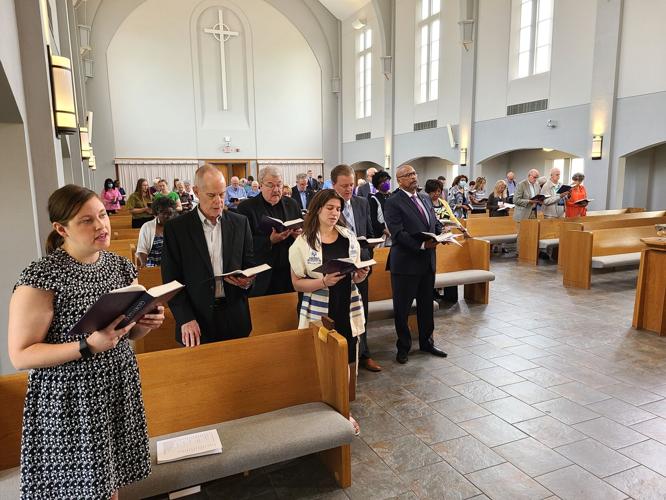 Lily Goldstein, student rabbi of Congregation Micah in Brentwood; David Osgood, secretary of the Islamic Center of Williamson County; Ed Steiner, pastor of St. Phillip Catholic Church in Franklin; Chris Joiner, pastor of First Presbyterian Church; Mary Sellers Shaw, associate pastor of First Presbyterian Church; and James Steanson, from the Church of Jesus Christ of Latter-Day Saints, echoed Sawyer's sentiments.
"May we be bold and have courage to be bold in our action and deep in our compassion, to discern when we must listen and when we must act, to uproot bigotry, intolerance, misogyny, racism and violence in all its forms, to celebrate the many faces of God reflected in this wondrous diversity of humanity," Goldstein said.
"We pray that [Father God] would bless civic leaders in cities like ours and pastors and congregations throughout this great country, that their hearts might fill with hope in thee, that their faith may increase," Steanson added. "Wilt though fill us with an anxiousness, a desire to do justice, a desire to do right, a desire to be peaceful, to draw together as thy children."
Franklin Mayor Ken Moore also spoke at the service.
He founded Unite Williamson, not in his official capacity as mayor but as a resident of the Williamson County community, alongside Shorter Chapel African Methodist Episcopal Church Pastor Kenneth Hill after witnessing the response of a diverse faith-based community following the shooting at Emanuel African Methodist Episcopal Church in Charleston, South Carolina, in 2015. The organization hosts an annual multi-faith communitywide event and discussion in October.
"Buffalo seems like a long, long way from Franklin, Tennessee, but we are connected," Moore said. "We have people from Buffalo who are here today, but also … [there's] the fact that what happened at Buffalo could happen here in our home, and it's important we prepare ourselves for whatever challenges may occur. So, as we pray today, I would ask you to join in those prayers today, but particularly, continue to pray for unity in our community and unity across the country. We know if we ask, we will receive."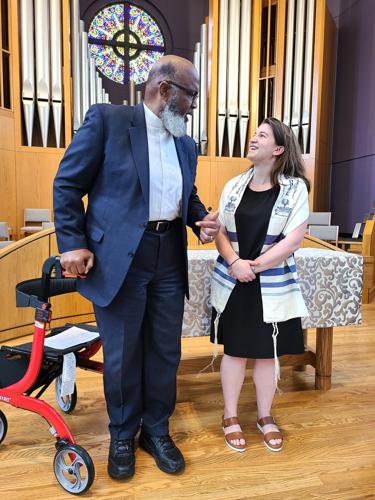 Micheal P. Snoddy, director of music and the organist at First Presbyterian Church, led the congregation in hymns and musical meditations, such as "Open Your Ears, O Faithful People" (Hasidic melody); Hymn 366: "Love Divine, All Love's Excelling"; "Insha'Allah – If God is Willing"; Hymn 379: "We Shall Overcome"; and Hymn 840: "It is Well with My Soul."
Hill delivered the benediction.
"Dear God, please give me strength when I am weak, love when I feel forsaken, courage when I am afraid, wisdom when I feel foolish, comfort when I am alone, hope when I feel rejected and peace when I am in turmoil," he said.