NASHVILLE, TN — The Office of the Bishop of the 13th African Methodist Episcopal Church, held a prayer vigil to support the families of the six victims and the shooter of the Covenant Presbyterian Church School, this past Monday, March 27.
Three nine-year old students and three staff, ages 60-61 years old, were killed by the reported shooter, 28- year old Audrey Hale.
"It is time for prayer and action beyond prayer" said Bishop Anne Henning Byfield. The recent killings at Covenant School and related murders of all children are atrocious to our city and our faith. We must move from lazy faith and empty love to confront a nation who has decided its citizens have no worth, its children have no value, and the gun industry has more power than those we have elected.
Citizens are saying, this is a time in this city for us to reflect on what we have done and what we must do for the future. The time is now.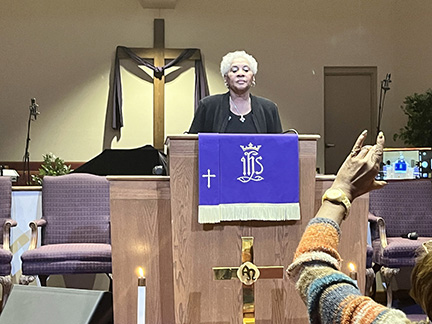 These shootings have destroyed lives and hurt an entire city. These killings continue a trend of too many killings at schools where our children innocently go to learn and adults teach and administer. As a society, we are at a total loss.
This invasive shooting directly touches education and faith-based communities, as well as our society as a whole. Killing our innocent children is a reality hardly anyone can comprehend.
"It is time we seriously address gun violence and gun control in an effective way. We hide behind the Second Amendment, while innocent children and others are being violently murdered. The people must speak and demand positive action for the citizens in every endeavor, said Rep. Rev. Harold Love, Jr.
There have been numerous meetings, rallies, prayer vigils, and private prayers, where people have gathered to reflect, re-commit, and of course pray, as well as doing something to make changes in our lives.
It is our responsibility to be a vehicle for action at Greater Bethel A.M.E.Church. The prayer vigil for the victims' families at Covenant School reveals we are a church that cares about the overall community," said Pastor Byron Moore. He added, "A church is no more powerful than the service it renders to the community."
"I applaud Bishop Henning and the 13th Episcopal District for holding this vigil to support the families of the victims at the Covenant School, as well as the Covenant Presbyterian Church. Our responsibility is to make change, not just talk about it, but do it by working together," said Pastor Howard Jones, senior pastor of Fairfield M. B. Church, who joined others attending the prayer vigil.
Funeral services have already begun for the victims, however the most important issue is gun control. Lawmakers are being pressured to address the issue on a federal and state level.