Former UT stars A.J. Johnson and Eric Gordon headline camp at Ensworth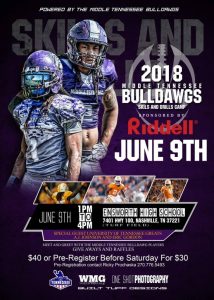 NASHVILLE- The Middle Tennessee Bulldawg Organization will hold a youth camp this Saturday from 1pm-4pm at Ensworth High School in Nashville. Bulldawg players and coaches will be joined by former University of Tennessee football players A.J. Johnson and Eric Gordon to show youth skills and drills.
"We are thrilled to put this on and hope that we get a good showing," said Bulldawg owner Ricky Prochaska. "Our team has bought in that we need to support our youth. I have a son that thinks these guys are the greatest football players in the world. A lot of our players have sons that look up to them. We want to showcase the love they have for the youth and give back at the same time."
At 7pm, the Bulldawgs will take on the top ranked team in the Gridiron Developmental Football League the Huntsville Rockets. The Bulldawgs are undefeated and are looking to be one of the top teams in the country. A win against the Rockets would put their name right up there.
"The camp will allow us to show that this is not just about football,"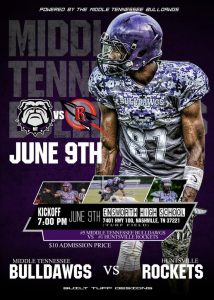 said running back Keon Bohannon. "We know the game that night is important but it is also important to pass our knowledge around. Our youth is faced with a lot of issues. We need to let them know that it is a better way to do things. Football is a good way to get that message out."
The camp is being sponsored by the Tennessee Football Alliance in conjunction with; Riddell Equipment, Wallace Media Group and One Shot Photography. All youth can pre-register for $30. Walk-ups will be $40. For more information contact Ricky Prochaska at 270-776-5493.