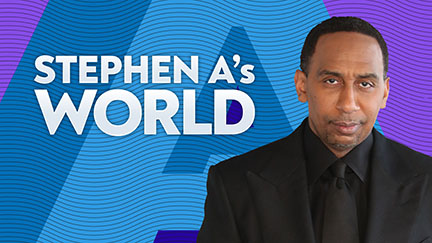 By Ron Wynn
NASHVILLE, TN — Stephen A. Smith has thrived on ESPN by not being afraid to express himself in a vigorous, outspoken fashion. His daily morning show "First Take" remains both one of the network's most popular and most controversial. But this week Smith is entering new territory, the world of streaming television as his new program "Stephen A's World" launches on ESPN Plus.
"You can already see me pontificating or debating, being very demonstrative, bringing some news to the question" on his regular show, Smith said Monday in an interview for Variety. "There is going to be a bit more levity to this show, a bit more fun." Viewers who tune in should expect to see Smith interact with a range of colorful guests in ways to which they may not be accustomed. "I'll give my hot takes. I'll still be me when I'm with me," says Smith. "But when I'm with a guest, it's about them."
To make room for the ESPN Plus show Smith decided to end his ESPN radio show. "I want to be part of the streaming world, and I have found that to be far more beneficial to my career than audio per se," he added.
Smith's new program debuted Monday. New episodes will be available every Monday, Tuesday, Thursday and Friday. The host will respond to fan questions lodged via his social-media accounts, give relationship advice to couples who have let sports come between them, and feature more of "Baby Stephen A.," a re-working of "First Take" with the announcer seen via a baby filter.
Smith is also being careful to make certain audiences know this isn't mainly or essentially a sports show.  "I'm not interested in having too many sports figures on this show," he continued. "I'd rather have folks in popular culture, in Hollywood, in politics, etc., talking about sports, talking about things that are interesting in sports. For me, it's just opening up the floodgates and exposing the sports world to different people who love everything about sports, just like the typical joe out there enjoys sports."
And he thinks he can get a wide array of guests, even if they hold different views. "We don't have to agree to be decent and respectful," says Smith. "Just because I don't agree with you doesn't mean I can't break bread with you."
"Stephen A's World" is produced in conjunction with his production company, Mr. SAS Productions, and Smith is an executive producer. "This is just the first in a laundry list of things I intend to do," he said in describing his company's efforts. "This is the first opportunity, but it will not be the last."