By Logan Langlois
NASHVILLE, TN — Sporting a cheetah-print jacket with matching funky orange and black socks, black 1970s-style pants, black dress shoes, and a quiet smile, former Nashville resident and current Philadelphian musician Ron Gallo sat crisscrossed on the outside porch of the Basement East.
In the year 2015, Gallo felt the overwhelming need to get out of Philadelphia for a little while, so he took up an offer made by a friend to rent out a room at his residence and try his hand at the Nashville music scene. It wasn't until the COVID-19 lockdown onset in 2020 that Gallo decided to move back to where he was born and raised.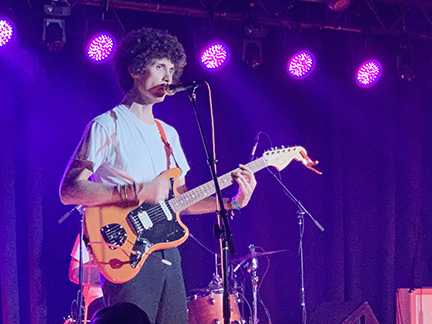 It was then that John Roseboro chimed in, remarking on the tour they were on, sitting opposite Gallo with a big grin across his face.
"I have fun like every night … I'll like, try to have a bad night, and then I'll be like, crap," said Roseboro. He is a multi-instrumentalist from Brooklyn, New York, whose soft rock style takes an unapologetic jazz twist underneath his soft-spoken vocals.
The two met after Gallo messaged Roseboro online complimenting him on his music; afterward, they got to talking and quickly built a deep respect for each other's discography which later resulted in a friendship. As they kept talking through the internet and meeting up in real life to hang out, the two later decided that their chemistry would make them natural tour mates.
"You should tour with people you want to listen to," said Gallo. "I'd be hanging by the merch and just watch John play … [I]t's a little selfish dude. I was like, 'Yeah I just wanna see you play every night, let's go on tour.'"
Inside the venue, the two were continually interacting directly with the crowd that filled up the open hall in front of the stage, much to the delight of the audience. Roseboro, performing only with his guitar and a lone drummer behind him, proved to be an inviting opener to the audience, welcoming them to experience every emotion with him. Towards the end of the set, Roseboro changed up his songs impromptu to invite Gallo and his band's bassist to perform a song the two had written but not yet recorded.
After a beautifully heavy set from Nashville's beloved Weird Sisters, Gallo took the stage accompanied by a visually excited guitar and bass player. The outfit performed wonderfully throughout the night to an electric crowd jumping and dancing throughout the room.
Even when Gallo's guitar died in the middle of the set, he along with his band was able to effortlessly keep the mood light and the energy afloat by continuously joking with the crowd. Making jokes that his whole musical career had been leading to that moment he said, "I started to play music 16 years ago just to get to this bit. This IS the joke!"
Gallo and his band then played an encore at the end of the night to the crowd's delight, many of them dashing immediately to Gallo's merch stand to support one of their favorite musicians by buying the shirts and posters he had for sale, especially since Gallo had announced that 100 percent of the merchandising profits produced by his poster sales were to be donated to Tennessean social justice groups advocating for the human rights of minority groups who have been under legislative attack within the last year.