By Logan Langlois
NASHVILLE, TN — When most modern-day music artists talk about recording a song in the back of a vehicle, they typically aren't doing so as a brag. For many with this story, the vehicle was as grimy as the hygiene of an early 20's wanna-be rockstar, the musical setup was likely acoustic in nature in front of the cheapest working microphone available to thrift, and the photo and video evidence of the event was most likely less than professionally shot on one or several cell phones. But then again, most also haven't recorded in the recently outfitted car-turned-mobile-recording-studio made for up-and-coming artists by car insurance agency The General.
According to the team heading the project for The General, the insurance company's "The Break" campaign is just the newest chapter of a much larger overall rebranding of the organization's image, the goal of the campaign is "reaching drivers who need a break in life, and on their car insurance."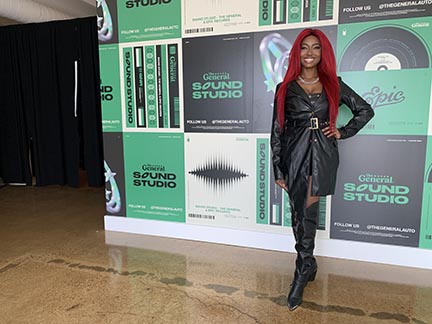 The idea came about through the tales of undiscovered musicians always traveling far and wide to play in front of new audiences to have their music heard. This idea was combined with the overall theme of The General being a car insurance company, and the mobile sound studio was born. It was at this point when Epic Records was brought in by the car insurance company to help connect them to upcoming artists who they felt were a good fit for the promotion.
One such artist is rising country music singer Reyna Roberts, who has just recently released her latest single Country Club, and was preparing for her recording of her next single One-Way Street. She said that she jumped at the opportunity to record inside The General's new car, being sold almost immediately by the uniqueness of the idea and the fact that it was different from anything else she had heard of before.
When asked how she was recruited to the project Roberts said, "I think it was Mickey Guyton's page, so she was the person that originally posted me [on her social media] … and they saw me singing on her page, and they reached out, and asked me to be a part of the project!"
Originally born in Alaska and raised largely in California, Roberts detailed how she has traveled all over the United States to pursue her passion for music, eventually landing in Nashville at the advice of her family. After coming to Music City, Roberts has continued to build a name for herself as a country artist influenced by many genres both within and outside of country music.
"I want to be able to speak to people all around the world, not just, like, a country music audience in particular," Roberts said while she was talking about the daily balance she considers while navigating the Nashville music industry and staying true to herself. "I definitely want to make sure they hear me, but I also want to inspire people globally. So, I have to make sure that people around the world can see me and connect with me."
Reyna Roberts can be followed on social media under @thereynaroberts as well as on her website www.reynaroberts.com. Future dates and cities in which The General's Sound Studio is projected to host future recording sessions for upcoming artists are to be announced by the company in the near future.