By Dr. Lauren K.Waller
NASHVILLE, TN — I had always heard of the Black Rodeo, but never had the opportunity to attend. To my surprise, a friend informed me about an event coming to Tennessee, June 5, 2023, called Black Rodeo USA. This immediately caught my attention and I had to research further. It was interesting to know that they are on a mission to celebrate African American History the Black Cowboy, culture and create memories, and that it did. We were reminded of Bass Reeves, a lawman and first Black deputy U. S. Marshall west of the Mississippi. Bose Ikard, best known for participating in the cattle drives on the Goodnight-Loving Trail, which ran from Texas all the way up to Colorado and Wyoming. Next, Nat Love, was a former slave who became one of the most prominent Black men in the west. He grew up in Tennessee and was a gifted horseman who traveled to Dodge City, Kansas to find work. And last, Bill Pickett, one of the most legendary Black rodeo performers of all time. He invented the "bulldogging" technique, which became known as steer wrestling.
This event was held in Shelbyville, TN at the Cooper Steel Arena. Tickets were affordable and the venue was large enough to accommodate the families young and old who came out from the Middle Tennessee area.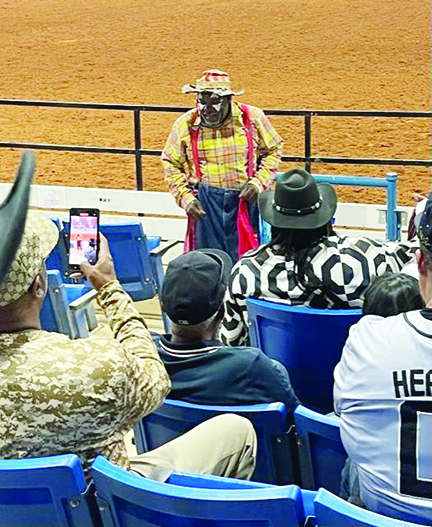 The Black Rodeo USA was the Hottest show in town! If you missed it, you truly missed an experience. From the culture, the history and entertainment, it was an exciting atmosphere to be a part of. This experience was my family and friends' first time attending a Rodeo show and it met our every expectation. We were offered an atmosphere that was family oriented with a warm welcome. There were an array of vendors at the venue, where you could get whatever you needed to blend into the show, I even bought myself a cowboy hat!
The most intriguing aspect of the show for me was that there were so many talented cowboys and cowgirls competing against each other in the different events from Bronco riding to Junior Barrel racing, especially the five, six-year-olds and teen competitors who performed with so much courage and dexterity, people were on their feet, screaming and cheering for each contestant. This occasion provided a good laugh, suspense and surprises to name a few.
In conclusion, I strongly recommend this Rodeo to families that love Black Cowboys, Black Cowgirls, culture/history, music, food and entertainments. The Black Rodeo travels across state lines and if you cannot make it to the next stop you can look up their event schedules online @BlackRodeoUSA.com to know which dates and next city of performance. Me and my family certainly will be looking forward to attending the next event, whenever they come to town again.
A special thanks to Mrs. Rosetta Miller-Perry and The Tennessee Tribune for hosting this Rodeo Event in Shelbyville at the Cooper Steel Arena and to Lanette Campbell, president/CEO of Black Rodeo USA.
Sponsors Included: The Tennessee Tribune, Wrangler, Boot Barn, Stetson and The Bedford County's Juneteenth Celebration.