On Easter, Christians celebrate the resurrection of Jesus Christ. Jesus of Nazareth was a carpenter who became an itinerant preacher at the age of 30. For the next three years, he drew thousands of followers in the relatively small area where he preached.
When Jewish leaders and Roman officials began to feel threatened by his growing popularity, he was arrested as he came into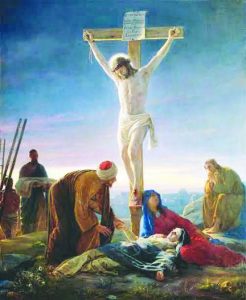 The Old Testament prophecy of a messiah being persecuted, then executed, then resurrected – all for the sins of his followers — is believed by many to have been fulfilled with Jesus' death.
Where in the Bible is the story of Jesus' execution? The story of Jesus' death appears in all four of the Gospels of the New Testament. You'll find them in Matthew 28, Mark 16, Luke 24 and John 18.
When is Easter this year? Easter is on April 4 in 2021.
Why is it on different dates every year? The answer is not a simple one. In 325 CE, the Council of Nicaea, a gathering of Christian bishops, decided that there should be a more organized and universal way to decide when Easter would be celebrated. The council decided that the remembrance would be held the first Sunday after the first full moon occurring on or after the vernal equinox.
The date for the vernal equinox was based on the ecclesiastical approximation of March 21. If the full moon falls on a Sunday, Easter is delayed a week.
How early and how late can Easter be celebrated? Easter can come as early as March 22, and as late as April 25 in the Gregorian calendar.
What does the word Easter mean? It could be from the name of the fertility goddess Eostre. It could be from the Norse "eostur" or "eastur," meaning "the season of the growing sun," or some combination of those terms and others from pagan festivals and ceremonies.
When was Easter first celebrated? It's not known when the first remembrance of Jesus' death took place, but there are records of ceremonies beginning in the 2nd century. The celebrations were held around the Jewish Passover each year, a date that was dependent on the vernal equinox.
What are Good Friday and Maundy Thursday? Good Friday commemorates the day on which Jesus was crucified. Maundy Thursday commemorates the Last Supper, the final meal that Jesus had with his disciples.